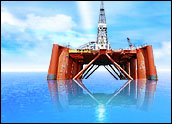 News that a tense situation in a key Iraq city was coming to an end caused a rare drop in oil prices Friday, which in turn gave stocks a chance to make a run and end the week on a positive note.
News that the standoff between U.S. forces and those loyal to Shiite cleric Moqtada al-Sadr might have ended drove down prices that have soared on fears that worldwide demand for oil is so high that even a minor production setback could send prices skyrocketing.
The news helped oil prices fall from an intraday record of US$49.40 in New York.
Crude futures lost 84 cents on the day, but were still up nearly 3 percent for the week. Many analysts believe oil prices will still break the $50 barrier within the next few weeks.
The markets reacted positively as well. The Dow 69.32 to end the session and week at 10,110.14. The Nasdaq tacked on 18.12, or exactly a percentage point, to finish at 1,838.01. The S&P 500 climbed about 7 points to 1,098.35.
The rollercoaster week for investors will most likely be remembered for the long-awaited debut of Google shares.
The stock continued to trade higher in its first full day on the Nasdaq Friday, gaining another 7 percent to close at $107.65. The stock is up more than 26 percent from its debut price of $85 per share.
Other stocks were not as fortunate. General Motors fell after a published report said the company planned to curb production on 2005 models during the current quarter.
The merger markets also stirred after a long summer of little activity.
This time, two giants in the real estate sector announced their intentions to join forces. General Growth Properties will acquire Rouse in a deal with a total value of more than $12 billion.