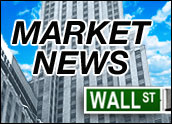 Oil prices dropped for the second straight day on news that inventories grew more than expected, while good earnings news helped lift U.S. stocks higher Wednesday.
Crude oil prices fell after a U.S. report showed higher-than-expected inventory levels on hand heading into the peak of the summer vacation season. The Energy Department said oil stockpiles increased by 2.5 million barrels last week, well ahead of forecasts for growth of 1 million barrels in the inventory.
The oil situation should continue to improve, with the first of two planned increases in output by OPEC set to kick in on July 1st.
Moving On Up
The drop in oil prices helped provide a positive backdrop for action on Wall Street, where stocks seesawed before a strong late-day rally pushed markets to their best one-day gain in almost two weeks.
The Dow gained 84.50 to close at 10,479.50, while the Nasdaq gained 1.3 percent, or 26.83 points, to close at 2,020.98. The S&P was higher by 9.63 points, ending the session at 1,144.04.
The gains helped the market break out of a rut that had been attributed to the onset of the summer season and fretting over next weeks interest-rate decision by the Federal Reserve.
Special Deliveries
Good earnings numbers and an even better outlook from Federal Express helped drive the market move, as did continued tech optimism.
Tech bellwethers such as Cisco Systems, which gained 3 percent on the day, and Intel, which was up 1.5 percent, helped power the rally.
Meanwhile, rumors that Network Associates was in talks to be acquired by Microsoft — since refuted by the company — still helped push NAI shares higher for a second straight day.