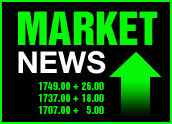 The technology and investment banking sectors helped boost stocks Tuesday as optimism about earnings pushed interest rate worries aside, at least for a day.
Positive earnings reports from major Wall Street banks Goldman Sachs and Morgan Stanley and a stellar performance from handheld maker PalmOne helped lift all averages higher.
The Nasdaq had the best day on a percentage basis, gaining a full point to close at 1,994.15. The Dow gained 23.60 points to finish at 10,395.07 and the S&P edged up 4.11 to 1,134.41.
Optimistic for a Day
The markets seemed relieved to have actual earnings news to digest, which saved the averages from another day of aimless trading ahead of next week's interest rate decision by the Federal Reserve.
Still, volume remained relatively light.
The same tech optimism spurred on by PalmOne was reflected in a higher price range for an upcoming initial public offering.
On-demand software pioneer Salesforce.com hiked the price range for its IPO to $9 to $10 per share, up from the original range of $7.50 to $8.50 per share, reflecting what is expected to be strong demand for the issue when it hits the street.
The gains came despite weakness in several key stocks and sectors, including Wal-Mart, which lost 1.6 percent on the day after a federal judge certified a class-action sex-discrimination lawsuit by current and former workers of the retail giant.
Oil, Dollar Steady
There was little movement in oil prices Tuesday, with investors awaiting a report due Wednesday on current U.S. inventory levels.
The U.S. dollar also gained back some of the losses it suffered Monday against the Japanese Yen, which investors were scooping up in anticipation of higher interest rates in that country.