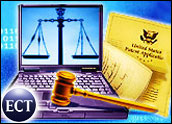 Nokia has thrown another punch in its longstanding patent battle with Qualcomm by asking the government to block imports of some Qualcomm products.
In a complaint filed with the United States International Trade Commission (ITC), Nokia alleges Qualcomm engaged in unfair trade practices by infringing on five Nokia patents in its CDMA (code division multiple access) and WCDMA/GSM (wideband code division multiple access/global standard for mobile communications) chipsets.
Calling for a Ban
Nokia wants the ITC to launch an investigation and ban the import into the United States of certain Qualcomm chipsets and products, such as cell phones, that contain them.
"Qualcomm's unfair trade practices include importing products, selling products for importation, and/or selling products after importation and inducing others to import products such as handsets, that infringe Nokia patented technology in certain Qualcomm GSM/WCDMA and CDMA2000 chipsets," asserted Nokia.
Qualcomm and Nokia have been fighting over patent licensing for almost two years. The tiff has included ITC complaints and lawsuits, including a complaint filed by Qualcomm against Nokia in 2006 related to GSM patents.
Once Friends, Now Enemies
A patent licensing pact between the companies expired earlier this year, and disputes about its renewal led Qualcomm to file a lawsuit in which it accused Nokia of patent infringement. Nokia responded with a countersuit alleging similar wrongdoing on Qualcomm's part.
Last year, the ITC found that Qualcomm infringed on some Broadcom patents; two months ago, it banned the importation into the United States of some Qualcomm chips and phones that used them. Qualcomm said it will appeal a jury's decision to award Broadcom nearly $20 million for patent infringement.
Ramping It Up
Nokia and Qualcomm aren't likely to end their hostilities any time soon, observed Yankee Group analyst John Jackson.
"I see this as another step in a series of escalations that ultimately are going to only serve to prolong this status of this dispute," Jackson told the E-Commerce Times. "It's another manifestation of what promises to be a protracted series of disputes."
Despite its filing of the new complaint, Nokia is trying to hash out its differences with Qualcomm, Nokia Chief Financial Officer Rick Simonson said. "We continue to negotiate with Qualcomm. Our intention is reaching a mutually acceptable agreement. We'd like that to be on a timely basis, but it takes two parties to make that happen," he said.
Qualcomm did not immediately respond to a request for comment.
Playing Field or Battlefield?
Nokia wants a level playing field, Simonson said. "We don't believe Qualcomm can play by different rules and can set unfair rules for the industry."
The patents in question "relate to technologies that improve the performance and efficiency of wireless communication devices as well as enabling lower manufacturing costs, smaller product size and increased battery life," Nokia said. The company stressed the technology at issue allows Nokia products to have competitive advantages over those made by other mobile device vendors.
"There is significant evidence to warrant an ITC investigation into Qualcomm's business conduct," said Simonson. "We are taking this action to stop Qualcomm's practice of copying Nokia's patented technology without permission, and making these innovations available to its chipset customers."