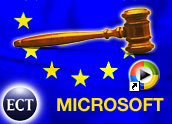 Microsoft's offer on Wednesday to make its Windows Server source code available under license in order to comply with EU antitrust laws may not be enough to satisfy officials.
Neelie Kroes, the European Union competition commissioner, made statements the day after Microsoft's announcement that appeared to question how valuable the concession actually was.
More information — specifically, documentation — is needed about the Windows Server's interoperability with rival applications. Brussels reportedly never asked Microsoft for the source code in the first place, as it did not believe its release would comply with the European Commission's March 2004 ruling. With that decision, the EC ordered Microsoft to provide a road map that would show other companies how to make their products work with Microsoft.
What It Will Take
Microsoft's rivals appear to agree with Commissioner Kroes, according to public statements. However, Microsoft's offer of its source code — which it has aggressively guarded up until now — is significant, contends Fred DeKay, an associate professor at Seattle University's Albers School of Business and Economics.
"The fact that they are willing to give up the source code is a major move on their part," he told the E-Commerce Times. "It opens them up to potential cloning,"
EU Wants More Documentation
Documentation is key to Microsoft's compliance with the ruling, explains DeKay, who previously was a manager of software development in the private sector. "It is critical — the code is not enough."
Developers, for instance, would need it to lay out the overall infrastructure and to link libraries together. Microsoft is offering additional tech support for people who want to create this linkage, he noted, "which is another very good faith effort."
Microsoft has released 12,000 pages of documentation, DeKay observed. "The question now is, are those pages the right pages?"
An End in Sight?
The two sides appear to be at a stalemate — again. Microsoft's current stance is that its offer to license the source code with the documentation it has provided complies with the court's ruling. However, with the clock ticking down to the EU's imposition of million dollar daily fines, the company is bound to continue negotiating.
How successful Microsoft will be in arguing its case remains to be seen. Ironically, antitrust laws are usually less restrictive outside the United States.
Still, Microsoft was perceived as abusing its unique position in the marketplace by thwarting its competitors' efforts to create interoperable products, DeKay said.