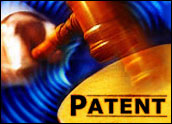 Mobile software maker Visto Corp. has filed suit against Microsoft, claiming that the push e-mail built into the new version of its Windows Mobile software violates patents the firm has held for nearly a decade.
Redwood Shores, Calif.-based Visto is seeking a permanent injunction against Microsoft to prevent it from using Visto technology without authorization as well as compensation for past violations. The suit was filed in U.S. District Court in Texas and says that Microsoft infringed on three separate but related patents with its Windows Mobile 5.0.
Competition With Blackberry
Visto also said that it had agreed to license its technology to NTP, the firm that has won a patent infringement verdict against Research In Motion, a ruling that has led to the prospect of BlackBerry service being suspended. NTP also bought a stake in Visto, the company said.
At issue is technology that enables e-mail to be pushed to mobile devices, that is passively sent there without requiring any action from the user, rather than requiring them to log into a network and download it manually. Push e-mail functionality is one major reason the BlackBerry has become one of the hottest hand-held devices.
Microsoft has hoped to chip away at BlackBerry market share by licensing its latest mobile software platform to device makers with push e-mail capabilities built-in. Microsoft did not immediately respond to a request for comment on whether the legal action would impact its product launch schedule.
"Microsoft has a long and well-documented history of acquiring the technology of others, branding it as their own, and entering new markets," said Brian A. Bogosian, CEO and Chairman of Visto. "In some cases, they buy that technology from its creator. In other cases, they wrongfully misappropriate the intellectual property that belongs to others, which has forced them to acknowledge and settle large IP cases with companies like Sun, AT&T and Burst.com. For their foray into mobile e-mail and data access, Microsoft simply decided to misappropriate Visto's well-known and documented patented technology."
Visto's software is currently used by mobile carriers including Cingular, Sprint-Nextel, the Vodafone Group, and Rogers Wireless.
Familiar Refrain
Visto said that its patents date to the mid-1990s, but have only recently begun to take on added importance as consumer and business demand for mobile e-mail soars.
"The market has caught up with Visto's original vision," said. Daniel Mendez, Visto's co-founder and one of the two patent holders.
Bogosian minced no words in his description of Microsoft as a "big, powerful, wealthy company," but one with "no real growth, even in their most profitable divisions. They want to show investors that they can sustain growth in a new, developing market, like mobile access to e-mail and data, but they cannot be permitted to do that by misappropriating another company's intellectual property."
Microsoft may well be used to being described in those terms, though it has fought hard to change its image in the wake of its anti-trust settlement with U.S. regulators. Microsoft has settled suits and begun to make strategic partnerships with the likes of AOL, Sun and others.
Visto said the patents in question are described as "System And Method For Securely Synchronizing Multiple Copies Of A Workspace Element In A Network;" "System And Method For Globally And Securely Accessing Unified Information In A Computer Network;" and "System And Method For Using A Workspace Data Manager To Access, Manipulate And Synchronize Network Data."
Window of Opportunity
Analysts say Windows Mobile 5.0, which was released in May, is important to Microsoft because it is the first new version of the platform to be built after Microsoft struck a deal to work with Palm, a partnership widely seen built to create a so-called BlackBerry killer.
Meanwhile, analysts say the timing of all the moves is key, as RIM is seen in a state of limbo, with the possibility looming that BlackBerry will be unplugged by the courts now more real than ever. Earlier this month, research firm Gartner advised clients to postpone major BlackBerry rollouts.
Gartner analyst Ken Dulaney said the uncertainty surrounding BlackBerry service is giving some users, especially those poised to deploy major new mobile initiatives, reason for pause.
That could help rivals, such as NTP and Microsoft, boost their market share. But their window for making moves may be limited, with Dulaney expecting a settlement by the end of the year or shortly afterwards.
From Visto's viewpoint, suing Microsoft may give companies considering deploying devices with Windows Mobile 5.0 reason for pause as well, though the mere fact of a suit is far from the same threat as the rulings that have gone against RIM, Dulaney noted.
Word of the lawsuit came as Microsoft was busy on other fronts. First, the software giant announced it was boosting its quarterly dividend by 12.5 percent, an early holiday present to its investors.
The company also announced its own set of lawsuits, saying it had sued 10 people or companies accused of pirating Windows and other software, part of a long-range effort by Microsoft to bring piracy under control.