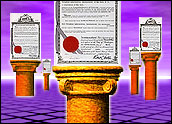 Microsoft has won a patent related to the timing of button-clicks on handheld computers and similar devices, sparking concerns among some companies and industry observers that the software giant will attempt to reap licensing fees for what many view as a common practice.
The U.S. Patent and Trademark Office granted Patent No. 6,727,830 to Microsoft in late April. It spells out a "method and system" for enabling a user to call up different versions of an application depending on how buttons on a "limited resource computing device" are manipulated.
For instance, a single click might call up the default version of an application, pushing and holding the button could cause an alternative version to be activated, and still different functions could be activated by a "double-click."
Microsoft said the patent application refers to devices that run on its Pocket PC platform.
"As with most of our patents, we would consider licensing it for others to use on commercially reasonable terms if another company asked for a license," according to Microsoft. "Doing so would be consistent with our December 3, 2003, intellectual property policy statement."
That statement says Microsoft will license its patents "under fair and reasonable terms" as long as the company sees no potential harm to its own intellectual property.
Toll Booth
Some industry observers expressed worry that makers of handheld devices and cell phones as well as application developers could find themselves facing the prospect of paying Microsoft licensing fees to enable their devices to operate in accordance with the clicking patent, changing their product to avoid working in the same manner, or working out some other arrangement with Microsoft.
Others argued the Microsoft patent is too broad and obvious and could be overturned if challenged. Critics note that digital watches have long used the double-click or click-and-hold method to enable users to change functions or set the time, for instance.
But Tom Franklin, a patent attorney with the firm of Townsend & Townsend in Denver, Colorado, said the patent office is actually quite stingy with technology patents and is generally eager to avoid granting anything that will become high-profile or controversial. He added that less than 20 percent of technology patents applied for are granted, compared with a nearly two-thirds approval rate in other areas.
"If you're a government worker, any notoriety about your job is generally a bad thing," Franklin told the E-Commerce Times. "They like to avoid controversy and press."
Challenge Ahead?
Comparisons in the media to the controversial patent Amazon received for its "1-Click" e-commerce checkout technology are interesting, said Franklin, because that patent withstood a lengthy and hard-fought court battle. Amazon now licenses its 1-Click technology to Apple and others.
Franklin said Microsoft may be trying to replicate the success that IBM, Xerox and others have had in producing thick portfolios of patents they then license to their customers.
"A lot of companies that were illegal monopolies, like IBM and Xerox, they learn to like being monopolies, and they say, 'How can we do this legally?'" Franklin added.
IBM typically receives more patents per year than any other single applicant, but Microsoft has been among the top patent-getters in recent years. Speculation that Microsoft is pursuing such a strategy has been ramped up by the company's hiring of an IP expert from Big Blue.
"The idea is to file a tremendous amount of patents and then go about trying to get royalties," Franklin said. The threat of patent litigation also can become a factor when a company is mulling whether to renew a contract with Microsoft or jump ship to a competitor.
Patent Confusion
Meanwhile, some experts maintain that the patent office is stretched too thin to adequately review all of the applications it receives.
Greg Aharonian, editor of the Internet Patent News service, said the patent office cannot fully research each application, with reviewers relying instead on the documentation in front of them, which, he argues, leads to "many patents of questionable quality being issued." That, in turn, puts the onus on third parties to challenge patents, which can be an expensive and time-consuming proposition.
Few Friends
Microsoft already has made its share of enemies in the patent world with some of its past moves. Most recently, the Public Patent Foundation asked the patent office to revoke the company's patent on the FAT File System, which Microsoft secured to cover the "ubiquitous format used for interchange of media between computers … and digital devices."
The foundation said it had uncovered evidence showing that the patent, which dates from 1996, should not have been granted. Foundation director Dan Ravicher said the organization's concerns are heightened because of Microsoft's "past anticompetitive behavior."
Microsoft has never pursued a patent violation, though it has been sued itself several times.