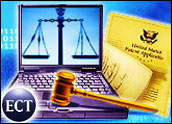 Microsoft has lost its bid to have a US$512 million patent-infringement award thrown out of court. Instead, a federal judge ruled that a jury acted properly in awarding the payout to Eolas Technologies and the University of California.
The award stems from an August 2003 ruling that Microsoft infringed on patents held by the university and Eolas. The patents cover how plug-ins, such as media players, are activated from within a Web browser.
Microsoft still has the right to appeal the ruling to a higher court and is expected to do so.
Willing To Talk
Eolas has indicated it would consider a negotiated settlement but saidMicrosoft has not engaged it in serious talks yet. More than the cash payout, which Microsoft could easily absorb, the problem for the software giant is the ruling's potential impact on Internet Explorer browser software.
When the ruling originally came down, developers worried that the method of Web sites calling plug-ins that then are opened in a browser would be thrown into question, Yankee Group senior analyst Laura DiDio noted.
"That uncertainty is what companies most want to avoid in these cases," DiDio told the E-Commerce Times. "Some kind of compromise to enable this technology to remain in the browser almost has to be reached."
A Separate Victory
Although Microsoft had been hoping the judge would set aside or reduce the award in the Eolas case, it did score a separate victory in a California court. There, a judge ruled that Microsoft has the right to challenge hundreds of facts presented by Sun in its private antitrust action again Microsoft.
Sun and others, including software firm Burst, had won a lower-court ruling saying that some 350 facts, many derived from the epic antitrust battle between Microsoft and the U.S. government, were not in dispute and would be accepted as a foundation for their cases against Microsoft.
However, an appeals court found that ruling was made in error, enabling Microsoft to challenge each of the factual findings as the case moves ahead.
Some analysts suggested the ruling also could help Microsoft defend itself against RealNetworks, which filed its own $1 billion antitrust action against the software giant in December, claiming Microsoft used its operating-system monopoly to make it difficult for others to compete in the online media arena.
Setting Music Free on XP
Finally, Microsoft said it has reached an agreement with federal regulators to alter its Windows XP operating system to eliminate a feature the government said violated its antitrust settlement.
Microsoft and the Department of Justice (DOJ) will ask a judge to approve an agreement under which Microsoft will make XP's "Shop for Music Online" feature work with non-Microsoft browsers. Currently, the feature is only compatible with Internet Explorer.
Microsoft could not immediately be reached for comment, but the company indicated in published reports that it is making the change for "business reasons," suggesting that satisfying the DOJ is an added benefit of the move.
DOJ spokesperson Jorge Martinez said the feature was identified as part of an ongoing review of Microsoft's compliance with the 2002 settlement, which enabled the company to remain intact but required it to change some business practices.
"Microsoft agreed to be closely monitored to ensure it's staying in compliance," Martinez told the E-Commerce Times. "From time to time, we spot things we want to see addressed."