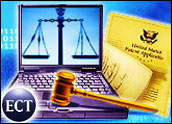 In response to its recent loss in a US$521 million patent case, Microsoft has announced it will make "modest" changes to Windows and Internet Explorer to address issues raised in the case.
In August, a jury in Chicago found that the software giant had infringed on patents held by Eolas Technologies and the University of California and ordered the software giant to pay $521 million in damages. The patent in question covered the embedding and invoking of interactive applications, including various plug-ins, in Web browsers.
A judge still must rule on whether or not the verdict should stand, and Microsoft has said it will appeal the result to a higher court if necessary.
Code Change
Many of the planned code changes will affect various plug-ins, and Microsoft claims its partners are as likely to be affected as is the software giant itself.
"This ruling affects more than just Microsoft; it affects a broad array of partners and customers, including companies that many would view as competitors," said Michael Wallent, general manager of the Windows Client Platform at Microsoft. "Microsoft has been very proactive in reaching out to this group to develop steps that will reduce or eliminate the ruling's impact on consumers and other companies, even as we appeal it."
Microsoft's solution includes changes to the way IE handles pages that use various ActiveX features, as well as Macromedia Flash, Apple QuickTime, RealNetworks RealOne, Adobe Acrobat and other plug-ins.
Aid and Assistance
The company said it will work closely with Web developers and others who work with IE to assist them in finding ways to "ameliorate or eliminate the impact of the ruling," likely by helping them author Web pages that smoothly integrate the changes. Partners such as Macromedia worked with Microsoft to find solutions to the patent ruling.
The jury found on August 11th that Microsoft had infringed on a patent owned by the University of California and licensed exclusively to Eolas. The ruling came after the judge in the case refused to let jurors consider Microsoft's argument that the patent was invalid because similar inventions existed at the time it was granted.
Coming in 2004…
Starting in the next several months, most of the changes will be included in new retail versions of IE software and in installed software sold by various computer makers. At this time, Microsoft has no plans to issue a service pack to update software already in use.
Although the changes will not impact the jury's award, they could help limit Microsoft's exposure to future royalty payments. The original verdict granted Eolas $1.47 for each copy of IE sold in a three-year period that ended in September 2001.
"It's partly cutting their losses and also an attempt to reassure partners and end users that they have the right to use the tools in IE," IDC analyst Alan Promisel told the E-Commerce Times. He added that the situation may be exacerbated by the legal mayhem surrounding Linux.
"Given the climate, with lawsuits flying in all directions, it's easy to see why a company would want to take action even when it's still saying it's done nothing wrong," he said.
The Eolas verdict has been seen by some analysts as having potential to force changes to HTML itself — the basic code enabling all Web pages to be viewed with a browser.
Look Smartly
In a separate move Monday, Microsoft said it will end its relationship with online search service LookSmart to focus on its own search tools.
This action may indicate Microsoft is inching closer to a full-blown assault on the search space — and it could be a fatal blow to LookSmart, which has acknowledged that it derives about 70 percent of its total revenue from the Microsoft contract.