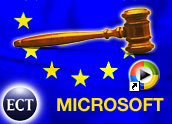 Setting a firm deadline behind its oft-repeated threats to issue stiff fines against Microsoft, the European Commission has given the software giant just five weeks to bring itself into compliance with an order that found it engaged in anti-competitive behavior.
Microsoft could face fines of up to US$2.4 million for each day that it fails to provide competitors in Europe with "complete and accurate" information on the operating code for its Windows server software so they can design products that work better in the Windows environment.
Out of Patience
That requirement and a record $587 million fine were part of a March 2004 antitrust ruling handed down by the European Commission. The order also required Microsoft to ship a version of Windows without the Windows Media Player in Europe, which Microsoft has done. The commission set a deadline of Jan. 25 to evaluate the company's compliance.
"I have given Microsoft every opportunity to comply with its obligations," said Neelie Kroes, competition commissioner at the Brussels-based regulator. "However, I have been left with no alternative other than to proceed via the formal route to ensure Microsoft's compliance."
Microsoft indicated it would formally request a hearing to discuss how it has moved to meet the terms of the order.
The fines could quickly accumulate, especially since they will be levied retroactively from Jan. 25 to Dec. 15 if Microsoft is found to be out of compliance.
Monitor Speaks
Imposition of the deadline follows the determination by an independent monitor, British computer science professor Neil Barrett, that the process Microsoft has provided for competitors to license its source code is so cumbersome that it likely is keeping many vendors from pursuing the opportunity.
"Overall, the process of using the documentation is an absolutely frustrating, time-consuming and ultimately fruitless task," reported Barrett. "The documentation needs quite drastic overhaul before it could be considered workable."
Microsoft accused the EU of changing the requirements for compliance, thwarting the software company's efforts to meet its demands.
"We will continue to take new steps to address each new demand … in order to ensure our compliance with the commission's March 2004 decision in a timely manner," Microsoft General Counsel Brad Smith said. "At the same time, we will contest today's statement to the full extent permitted under EU law."
There have been numerous deadlines along the way as the EU has pushed for full compliance. Microsoft has argued repeatedly that any release of its code must take place only under carefully guarded circumstances to ensure that its most valuable asset is not plundered. In September, Microsoft asked a European court to throw out or modify the code-revelation requirement.
Lingering Headache
The lingering battle with Europe — Microsoft has said in the past it would appeal the overall ruling, likely leading to a several-year-long legal process similar to the massive trial that unfolded in the U.S. and ended with a sweeping settlement — now stands in sharp contrast to the progress Microsoft has made in settling other suits.
Microsoft has settled with a fistful of longtime foes, most recently RealNetworks. Other include Netscape, Sun Microsystems and IBM.
After making significant payouts to close those cases, Microsoft has begun to publicly acknowledge that it faces the most critical competitive challenges in its history. These include the rapid spread of open source in the enterprise software space and the sharp rise of Google and others in providing more services on the Internet — trends that could mean Microsoft applications will become less essential over time.
"Microsoft can afford to make payments to end the private cases," Yankee Group analyst Laura DiDio said. "But it has a long history of guarding its source code vigorously, and the change of philosophy required to throw it open — and to competitors, at that — is significant."
Still, she said, Microsoft is eager to end the European case so it doesn't distract it from efforts to regain market advantage, most notably through promoting the Windows Vista release slated for next year.
In the past month, Microsoft has also found itself facing antitrust action in Korea. The software maker may fear that the more success the EU has in getting significant concessions, the more likely other countries — at the behest of their native software industries — will be to take similar actions, some analysts suggest.