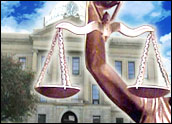 Microsoft and Google have agreed to end a bitter five-month legal feud over Google's hiring of a former Microsoft executive.
The two companies did not detail the terms of the settlement, which ends two separate suits.
However, it is widely believed that Kai-Fu Lee, who had overseen Microsoft sales efforts in China and was hired to help Google oversee research and development and establish a greater presence there, will be allowed to work for Google as long as he does not deal in areas directly related to his work with the software giant.
Microsoft sued Google in July, saying that Lee violated a non-compete agreement by accepting the position. Before leaving Microsoft, he served as vice president of the Natural Interactive Services division, and Microsoft said he had access to trade secrets "concerning search technologies and China business strategies."
A settlement seemed imminent in September, after a judge ruled that Lee could work for Google but could not use any knowledge he gained while at Microsoft until a full trial could be held.
Hoping to avoid a trial, during which some sensitive and potentially embarrassing information could become public, Microsoft offered to settle. Google did not immediately respond and a trial was set to begin Jan. 9.
Leading the Charge
In fact, the preliminary court proceedings have already generated some interesting, if disputed, anecdotes about the rivalry between Microsoft and Google, including one story in which Microsoft CEO Steve Ballmer was said to have thrown a chair to emphasize his desire to crush Google.
In court papers, Lee himself portrayed his work environment at Microsoft as one in which he was repeatedly harangued by Microsoft Chairman Bill Gates about his progress.
Lee, who will hold the title of "president of engineering, product and public affairs" for Google China, helped establish Microsoft's research labs in that country and focused on speech recognition and related issues.
Lee was reportedly offered a pay package worth around US$10 million to make the jump to Google, becoming one of several high-ranking executives to go from Redmond to Mountain View.
Among the terms of the deal may be a ban to prevent Lee and his Google team — at least, temporarily — from recruiting other Microsoft staffers, as the software giant tries to prevent a brain drain of top talent from key areas of the company.
The case always seemed to be about much more than the hiring of one person, said search expert and Google book author John Battelle.
"It was starting to look less like an employment dispute and much, much more like the first of what will likely be many protracted battles between the once-mighty king and the young princely upstart," he remarked.
Google clearly believes Lee is the right person to lay the foundation for its China efforts, Battelle said. The company said it was willing to pay him even if he were unable to work for the first year because of the non-compete agreement with Microsoft. "Clearly, Google was thinking long term," he added.
Busy Week
The settlement came at the end of a week that saw Google emerge victorious in the quest to strike a strategic partnership with America Online.
As recently as two weeks ago, it appeared that Microsoft was poised to win that race, but Google quickly closed a deal that will see it pay $1 billion to acquire a 5 percent stake in AOL and secure a long-term contract to provide search results and related advertising services.
There has been flurry of rumors about a Redmond countermove — including one, since debunked, that had Microsoft buying browser maker Opera.
The settlement may be a rare moment of detente between the two companies, but is not unique. The rivals recently joined forces to provide funding and other backing for a new Internet research lab at the University of California at Berkeley designed to develop next-generation Web services.
Avoiding lengthy trials has also become standard operating procedure for Microsoft, which has struck a slew of high-profile settlements recently. The company clearly wants to minimize lawsuit-related distractions so it can focus on the competitive challenges it faces and ensure that new product launches, such as Microsoft Vista, come off without a hitch.