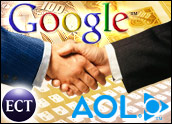 In a bold move to strengthen its grip on the money-making side of the Web search business, Google has finalized a deal to pay US$1 billion for a 5 percent stake in America Online and to deliver advertising to AOL sites.
The deal, which came about after months of back-and-forth negotiations among AOL, Google and Microsoft, also stands to boost AOL's profile among Web companies, helping to complete its makeover from walled-in Internet service to open-to-all portal with the ability to compete with Yahoo and MSN.
Working Together on Multiple Levels
Under the deal, finalized late yesterday, AOL and Google forged an advertising partnership, agreed to work together on online video services that will spread AOL content to more Web users, and said they would make the Google Talk instant messaging platform compatible with the market-leading AOL Instant Messenger (AIM).
In addition to providing search results for AOL properties, Google said it would create an AOL Marketplace through which AOL can sell Google search advertising directly. Google will also expand AOL's display advertising throughout the Google network, and boost the profile of AOL content within the Google Web crawl system so that its pages are more likely to turn up at the top of search results.
In the short-term, the deal changes little, since AOL was signed up to get ads from Google into 2006. But in the bigger picture, the deal is seen as strengthening both companies while depriving Microsoft — which until recently had been seen in the lead in negotiating with AOL — of a prized piece of online real estate.
"This agreement is key to fulfilling our commitment to realize the potential of AOL's very large online audience," said Dick Parsons, CEO of AOL parent company Time Warner. "As digital technologies continue to drive industries together, the great value and opportunity inherent in Time Warner's structure and array of premier businesses becomes increasingly clear. A critical piece of this strategic alliance will be our content, which we will be making more accessible to Google users."
Lengthy Negotiations, Quick End
AOL's access to Time Warner content is seen as a major driver of the deal. It instantly gives Google access to some portal-like features that MSN and Yahoo spent years and millions of dollars developing on their own and through partnerships.
Google CEO Eric Schmidt called the deal "an important next step for our companies," and AOL CEO Jonathan Miller described it as a "great moment."
As recently as a week ago, Microsoft seemed poised to win a partnership with AOL. That changed rapidly in recent days, as AOL was said to have cut off talks with Microsoft in order to enter exclusive negotiations with Google, resulting in the deal announced yesterday.
In fact, the process began more than a year ago, when Time Warner's board began exploring strategic options for AOL. At various points, a spinoff or sale of the entire Web unit was said to be on the table, and talks were held with a number of suitors, including Yahoo, Microsoft, Google and cable company Comcast.
The deal values AOL at $20 billion, a far cry from the $150 billion market capitalization it enjoyed at the peak of its popularity. It is probably a fair price today, analysts say; AOL has fewer paying members than in the past but still enjoys strong market shares in instant messenger use and Web traffic.
Impact Debated
The deal was "something of a surprise. We had anticipated a Microsoft announcement," said Kelsey Group Managing Editor Greg Sterling.
"This is obviously a big deal, and may give Google access to coveted content assets from Time Warner," he added, noting that the terms suggest an easier "integration than a joint venture with Microsoft would have been."
The access to AOL and Time Warner video content could be a major boost to Google's efforts to capture some of the video search market as well, Sterling said.
Google may have been willing to pay the $1 billion just to avoid losing AOL to Microsoft, some analysts speculate. That outcome could have been more of a public relations blow than a financial one, they reason, since Google's growth would help replace much of the revenue lost should AOL jump ship.
"I think losing AOL wasn't so much a financial issue as it was one of ego — there was no way Google was going to let Microsoft beat it at anything as high profile as a major partnership," said Forrester Research's Charlene Li.
The deal may have other implications, said search expert John Battelle. Google learned first hand that small stakes can pay off big, he noted, since it watched Yahoo make billions when Google went public, thanks to a tiny stake it had taken as Google was growing.
A Lot of Money
"Should AOL go public, Google stands to profit — a lot," he said. "The company knows that by guaranteeing its business to AOL for the foreseeable future, it has in essence guaranteed AOL's bottom line, providing a healthy earnings forecast for AOL and Wall Street, should Time Warner decide to spin its erstwhile child back out as an independent public company."
AOL will eventually be taken public, Battelle believes, especially if it can grow revenues and profits. Given its current revenue rate, it likely would be worth far more than the $20 billion the Google deal values it at.
Microsoft shouldn't be considered down and out because it didn't get a piece of the AOL pie, though, said Forrester's Li.
"[Microsoft's] adCenter has a lot going for it and will be the foundation for the new Windows Live and Office Live offerings," she pointed out. "The AOL deal would have been a tremendous validation of the product, but in the end, its performance will speak for itself."