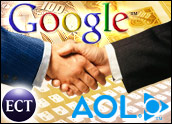 For the last several days, Google has set the online and financial worlds buzzing with an expected deal with America Online that could be cut as early as today. Although opinion varies on the wisdom and impact of the move, there's one point on which everyone agrees: The maneuver will add fuel to the simmering feud between Microsoft and the Net's favorite search engine.
The rumored deal has Google buying a 5 percent stake in AOL for US$1 billion. What's more, AOL would receive some favorable advertising considerations from Google.
"It's clear that this event will shake up the search/portal space," Ken Cassar, director of analytics for Nielsen//NetRatings told the E-Commerce Times.
"For advertisers, it allows them to buy comprehensive packages that cut across the different forms of advertising, including search, display and contextually relevant links," he said.
"In addition, now AOL's sales force has the ability to sell a wider array of online advertising," Cassar noted. "The agreement sets a major milestone in the escalating war between MSN and Google."
Microsoft Disappointed
According to one Microsoft watcher, if the Google-AOL pact is inked, it will cause concern at the Redmond campus.
"The rumored deal would disappoint Microsoft," Rob Helm, director of research for Directions on Microsoft in Kirkland, Wash., told the E-Commerce Times.
"Working with AOL gives Google ad revenues that will be difficult for Microsoft to compete for," he said. "That, in turn, means that Google has resources to expand into areas that might compete with Microsoft's core businesses like consumer software.
"However, Microsoft is pulling its own ad platform together and will fight for every ad dollar," he added. "A renewed Google-AOL deal would be important but not decisive."
Ego, Not Acumen
If Google throws some cash AOL's way, more than financial considerations may be influencing the decision,Forrester Research analyst Charlene Li noted in a blog.
"I think losing AOL wasn't so much a financial issue as it was one of ego," she pointed out. "There was no way Google was going to let Microsoft beat it at anything as high profile as a major partnership.
"I'm not surprised that Google upped the stakes by making an investment in AOL. What's amazing to me is they thought it was worth $1 billion," she said.
Doubling ROI
Not everyone shares Li's skepticism about whether or not AOL is worth $1 billion of Google's cash.
"Why invest $1 billion in AOL?" asked search engine guru John Battelle in a blog. "Well, should AOL go public, Google stands to profit — a lot.
"The company knows that by guaranteeing its business to AOL for the foreseeable future," he continued, "it has, in essence, guaranteed AOL's bottom line, providing a healthy earnings forecast for AOL and Wall Street, should Time Warner decide to spin its erstwhile child back out as an independent public company.
"If AOL goes public and is seen by Wall Street and others as the equivalent of a cheap ticket to Google revenue," Battelle reasoned, "it may well pop into Yahoo like valuations — to $50 [billion] or $60 billion in market cap or more."
If that's the case, he concluded, Google's $1 billion becomes $2 billion — not a bad return on investment.
Icahn Miffed
Although the Google-AOL accord hasn't emerged from the twinkle-in-eye stage yet, at least one very prominent Time Warner shareholder is ready to give the parties a shiner should the wrong kind of concord be announced.
Carl Icahn dispatched an "open letter" to Time Warner's directors yesterday telling them they were on the verge of making a "disastrous decision" concerning AOL and Google, should such a decision block AOL's future merger options.
"I believe," he wrote, "it would be a blatant breach of fiduciary duty to enter into an agreement with Google that would either foreclose the possibility of entering into a transaction that would be more beneficial for Time Warner shareholders or make such a transaction more difficult to achieve.
"I am not opposed to the board using its business judgment to enter into a transaction with Google or another suitor so long as the transaction does not destroy or impede Time Warner's flexibility to unlock shareholder value in the near and long term," he added. "However, I want this letter to serve as notice to Time Warner's directors that if they enter into a transaction that has that effect, shareholders will seek to hold directors responsible."