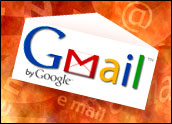 Search leader Google has launched a mobile-friendly version of its popular Web-based e-mail service, Gmail, offering a streamlined interface meant to be more compatible with small screens.
Anyone with a Gmail account and a Web-enabled phone can access Gmail remotely. Google said the service detects the type of device being used to access the mail account and returns message listings and e-mails in an appropriate format based on the size of the screen and other factors.
The service will also automatically synchronize Gmail accounts, showing messages viewed remotely as read the next time a user logs on from a PC, and will enable mobile users to open certain attachments, including text files in Office or in PDF format.
Gmail mobile also offers a "call to reply" feature that works this way: If a user has stored the phone number of an e-mail sender in his or her contacts list, an opened message can be replied to either by a return text message or by calling that person's number.
That feature may help address some of the shortcomings of using mobile phones to access Web-based mail, including the difficulty of typing messages on phone keyboards and the airtime used up to do so.
For the Small Screen
Analysts noted that like all Web-based services, Gmail has technically always been accessible from Web-ready mobile phones. But the Web version was often difficult to read on all but high-end mobile devices, with the browser window on smaller handhelds only displaying a part of the actual Web page.
"This is mobile e-mail for the rest of us, who have normal or tiny screens," said Kelsey Group managing editor Greg Sterling.
The goal of the service is likely to boost mobile usage of Gmail, Sterling said, as a way of giving Google users more exposure to its Web services in mobile form. That in turn could eventually open up new opportunities for its search business, especially in the area of local search. Gmail and related products — such as GoogleTalk, the IM and voice chat service — are important because they require users to register and provide some personal information, such as their home ZIP codes.
"Gmail is now a kind of hub for Google," Sterling added. "GoogleTalk and a range of personalized services are all tied in together through Gmail registration. The more registration data collected by Google, the more relevant search results and ads can potentially be."
Not Alone
Google has raced its rivals, especially Yahoo, to bring their popular Web services to more mobile users. The mobile frontier is seen as a key battleground not only for the eyes of users, but also as a new, virtual landscape where their ads and paid listings can be populated.
Analysts see search companies struggling to find easy, natural ways for mobile users to delve into their search engines. Google has tried a keyword approach that enables users to essentially send a text message of their search criteria. And Yahoo and Google both have tried to retrofit their search tools for mobile use, but uptake to date has been seen as minimal.
By comparison, e-mail may be more a intuitive use of mobile devices, as is evidenced by the popularity of high-end devices such as Research In Motion's BlackBerry or the Treo.
While it's unlikely Web-based e-mail would ever replace the push e-mail available for business users on the BlackBerry and other hand-helds, it would likely be sufficient for most consumers, analysts say. And with Web-browser-enabled phones now plunging in price and Gmail a free service, the price may be right as well.
Telecom analyst Jeff Kagan told the E-Commerce Times that all Web companies want to extend their reach to the mobile phone as the device evolves from a communications tool to customers' "third screen," after the TV and PC.
"Companies like Google and Yahoo are entering the wireless space because they know the future of wireless is much more than phone calls," he added.