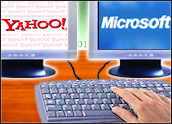 The never-ending Microhoo saga has left many investors feeling downright whipsawed as they watched events careen from one extreme to the other — and that was after the merger was supposedly dead in the water.
Since Microsoft walked away from the deal, 1) Yahoo has hinted that it maybe, possibly would like to be acquired if the price were right; 2) Microsoft vowed that it would develop its own organic Web 2.0 platform instead of making a huge acquisition like Yahoo; 3) Microsoft reportedly began pursuing Facebook, which would be an even bigger Web 2.0 acquisition than Yahoo; and 4) shareholder Carl Icahn threatened to launch a proxy fight to force Yahoo back to the table.
Now, most likely due to Icahn's very real threat, Microhoo — or some version of it — is apparently gasping back to life.Over the weekend, Microsoft made statements to the press indicating that it's exploring an agreement with Yahoo.
This new venture would not be the full takeover originally envisioned, but Microsoft said that it "reserves the right" to reconsider its bid to buy Yahoo. However, no mention was made as to whether its final and best offer of US$47.5 billion — which CEO Jerry Yang had rejected as insufficient — was still on the table.
Yahoo said it was open to pursuing any transaction that would be in the best interest of investors, including a proposal from Microsoft.
Strategic Alliance
Little has been revealed of the current state of the talks beyond these scanty details. One widely held assumption is that Microsoft and Yahoo are considering some kind of strategic alliance in which Microsoft would leverage Yahoo's advertising platform and search capabilities.
If that indeed is what they're contemplating, then it would be better to leave Microhoo dead and buried, Jon Down, director for the Center for Entrepreneurship at the University of Portland and an associate professor of business administration at the school, told the E-Commerce Times.
"Any kind of partnership would be difficult, given the bruising fight they just had," he said. "And then there is the issue of the two companies' very different cultures and how to integrate the two pieces if there is not a clear dominate player."
Most significant of all, noted Down, is that Icahn will surely accept nothing less than an outright sale. He made that desire very clear in his letter to Yahoo's board, which was publicly released.
"Icahn is still the wild card," he concluded.
Limited Sale
Another possibility is that Yahoo will agree to sell its search business alone, which might or might not appease Icahn.
"Certainly that is a possibility; it all depends on how core Yahoo sees its search operations," Eric Litman, managing director of WashingtonVC, an early stage fund and incubator, told the E-Commerce Times.
"Yahoo began as a search company but, over the years, has evolved into a marriage between search and content. Between search, content, e-mail and other applications, they have managed to successfully build and maintain one of the largest user bases online," he observed.
Microsoft might be better off just acquiring the search component, Litman suggested. Yahoo would maintain the content portal, which is what it does best. "This actually could be a good opportunity for both companies."
Yahoo is in a good position to sell its search engine business given the interest Google has shown in the operations of late, Peter Cohan, a principal with Peter S. Cohan & Associates, told the E-Commerce Times.
Whether such a transaction would be good for Microsoft, though, is questionable. "It would create an enormous integration headache if it tries to join Panama with what Microsoft has done in this area. The tech challenge will tie Microsoft up in knots for a long time and will not necessarily give it an immediate advantage over Google," Cohan explained.
Furthermore, Icahn may not be satisfied with anything less than the price Microsoft was willing to offer before it walked away.
Whether Yahoo's overtures are sincere is also unclear. "I think the only reason they are even talking to Microsoft is because of Icahn's threats," said Cohan. "Yahoo needs to appear to be doing something to appease that."
The Deal That Won't Die
About the only sure thing that can be drawn from this weekend's events is that the Microsoft, Yahoo saga is not over.
Cohan, who teaches a class at Babson College on strategic decision making, challenged his students when the proposed acquisition was first announced with an assignment to come up with advice for Yahoo's board.
"I was afraid the deal would close in the middle of the assignment," Cohan recalled. "Now, the semester has been over for weeks, and this deal simply won't die."