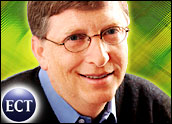 Microsoft has announced that it will ask a European court to suspend parts of the European Commission's March 24th ruling, which ordered the company to change its business practices and pay a fine of US$612 million.
In the ruling, the commission mandates that Microsoft must strip Media Player software from its Windows operating system, as well as share information so competitors can compete more easily. Microsoft was given 90 days to comply with the order.
Microsoft's appeal comes as no surprise to analysts and other observers, said IDC analyst Al Gillen. "As soon as they heard the ruling, they were talking appeal," he told the E-Commerce Times.
On Monday, EU's competition chief Mario Monti said he was confident that the EU ruling would stand after an appeal. In a public meeting with Hewitt Pate, the chief of U.S. antitrust policy, Monti stated, "In good conscience, we feel pretty much comfortable and we look forward with confidence to the very likely court procedure."
Delay Tactic
Whether the appeal has any effect on the EU's ruling remains to be seen in the coming months, but Yankee Group analyst Laura DiDio told the E-Commerce Times that it will benefit Microsoft in the short-term.
"Microsoft is buying itself time," she said. "As long as the ruling is under appeal, the company doesn't have to pay."
She added that the appeal also gives Microsoft time and opportunity to change some perceptions of the company in the EU. But even if some minds get changed, the company still has a long road ahead of it.
"They have an uphill battle in front of them, because the EU is determined to hold Microsoft accountable for what it feels to be monopolistic and bullying tendencies," DiDio said.
Product Changes Ahead?
The current ruling is potentially only one of many that the EU could levy against Microsoft. As the company comes out with new technology, it could face the same regulatory hurdles that it is experiencing with Media Player.
DiDio noted that the EU is eyeing future products like Longhorn, and setting the stage for decisions to come. "There's a lot at stake here," she said.
If the ruling stands after the appeal, DiDio noted that consumers in the EU might be mystified as to why they are being sold a stripped-down version of Windows at the same price as fuller versions.
"If you want to get Microsoft, that's fine," she said, "but what's the point of having them produce something that no one's going to buy?"
According to the ruling, it would be up to European computer makers whether to ship Windows with Media Player, or with that of a rival like RealNetworks' Real Player.
Larger Issues
Aberdeen Group chief research officer Peter Kastner told the E-Commerce Times that there is more at play than what happens to Microsoft. He noted that decisions made against Microsoft could affect many other global companies.
"Microsoft is seeking to clarify major issues of law and commerce," he said. The company has been adjudicated in the United States, Kastner noted, and now is trying to show that the EU is setting a completely different standard for business conduct than the United States and other parts of the world.
This makes many global companies flinch, Kastner added. "These companies would like a world with more or less similar legal standards across the board, because that way it's just easier to do business," he said.
Because the larger issues are so important, Kastner expects that if an appeal is shot down, Microsoft might find that it has grounds to go to the world court. "At that point, the company would bring up international treaties and other trade agreements," he said.
He added that the EU's regulatory decision could also tarnish the commission's image going forward. "Because antitrust is such an arcane subject, and because it's doing so little for consumers, it's easy to think that the EU is just being overly bureaucratic and punitive."