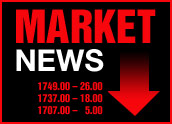 The Nasdaq dropped more than 2 percent Tuesday and the Dow fell to its lowest levels in a month as warnings from technology companies combined with spiking oil prices to lead stocks lower.
Stocks were down across the board, but the Nasdaq led the way, losing 2.15 percent, or 43.23 points, to close at 1,963.43.
The Dow dropped 63.49 points to close at 10,219.34, a loss of 0.6 percent. The S&P also fell, dropping 9.19 points to 1,116.19.
Tech shares kept pace with the decline. Shares of Veritas software shed nearly 40 percent after the software firm sharply lowered second-quarter guidance. charge, plus short-term disruptions in supply from Nigeria and long-term questions about Iraq's ability to export oil amid continued violence all pushed oil futures sharply higher Tuesday.
Elsewhere, data on the strength of the services economy was being analyzed for signs of weakness after several recent economic reports raised doubt about the strength of the recovery.
New Orders and Employment Components
The Institute for Supply Management's nonmanufacturing data showed new orders and employment components rising in June, but not as strong as had been hoped.
The overall index fell to 59.9 in June from 65.2 in May. Any number above 50 still represents expansion, however, and the index predicted more expansion this month.
The services sector taken as a whole accounts for the vast majority of U.S. employment.
Separately, a report from Challenger Gray & Christmas said planned layoffs by American companies fell 12 percent in June to their lowest levels in a year.