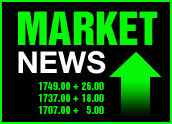 Stock markets picked up today where they left off yesterday, extending a post-election rally on a sharp drop in oil prices.
The Dow gained 177.71 points, or 1.75 percent, to close at 10,314.76. In the two days since the re-election of President Bush, the Dow has posted a gain of 278 points.
Oil Prices
The S&P 500 was the day's second-best performing index on a percentage basis, tacking on 18.47 points, or 1.62 percent, to finish at 1,161.67. The Nasdaq did its part to add to the rally, gaining 19.30 points, or 0.96 percent, to 2,023.63.
Stocks moved higher after oil closed at its lowest level in five weeks on the New York Mercantile Exchange, dropping US$2.06 to close at $48.82.
Fueling oil price volatility was uncertainty about the status of PLO Chairman Yasser Arafat, which could affect progress toward peace in the Middle East, and word that U.S. energy supplies had grown last week, with both crude oil and natural gas stockpiles growing sharply.
Fourth and Goal
Some traders saw the rally being aided by a speech President Bush gave in which he laid out an agenda for the next four years that includes some investor-friendly initiatives, including so-called tort reform, which could boost companies by reducing their exposure to extensive legal damages in certain cases. Others said the market appears to be laying the foundation for a fourth-quarter rally, a period when the markets typically perform well.
Other investors are likely still watching the economic radar screen. Ahead of tomorrow's October unemployment data, the Labor Department today said weekly jobless claims were down last week even more than forecasts, dropping 19,000 to 332,000 for the week.
While several key retailers said October sales were better than expected — Target, for instance, reported a 6 percent increase in sales — raising hopes for a strong holiday shopping season, discounter Wal-Mart said October sales were disappointing, rising just 2.8 percent at stores opened more than a year, slightly below forecasts.