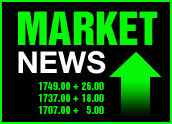 The Federal Reserve Board raised interest rates as expected today, boosting the overnight lending rate by a quarter-point. Stocks reacted to the news with a modest late-day rally.
The Federal Open Market Committee raised the federal funds rate to 1.75, marking the third time this year that rates have been raised from historically low levels.
Stocks got a lift from the statement that accompanied the Fed's actions, which said in part that economic growth "appears to have regained some traction," and that conditions in the labor market have "improved modestly."
Good News
At the close, the Dow was up 40.04 to 10,244.93. The Nasdaq gained 13.10 to finish the session at 1,921.17 and the S&P 500 climbed 7.10 points to 1,129.30.
Investors had other reasons for optimism as well. The Commerce Department reported today that new home construction rose .6 percent in August to an annual rate of 2 million, the strongest level since March and better than analysts had expected.
Positive earnings news from a variety of companies in different sectors also helped to boost stocks.
Tech Stocks
Among tech stocks, Adobe Systems soared to a 52-week high after beating profit targets for the third quarter, and investment bank Goldman Sachs helped lift financial stocks after posting a 30 percent increase in profit for its most recent quarter.
Oil, meanwhile, remained a worry for some, with futures closing at a one-month high of $47.10 per barrel today. Oil's recent run-up has prompted some market watchers to resume predicting that the $50 per barrel price barrier will be broken sometime in the next few weeks.