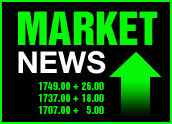 Wall Street was once again a rollercoaster Thursday as stocks plummeted and then rallied to close higher as investors waited for software giant Microsoft to report earnings after the close of trading.
Microsoft, which already made investors happy this week by announcing plans to disperse up to US$75 billion in cash, will be closely watched for both its second-quarter results and its forecast for the rest of the year.
Analysts were expecting Microsoft to post revenues up more than 11 percent from last year.
Ahead of the news, the Dow, which actually fell below the 10,000 level during the session, managed to claw back and finish 4.20 points higher at 10,050.33.
The Nasdaq gained 14.69 to finish at 1,889.06 and the S&P 500 added on 2.96 points to 1,096.84.
Oil, Jobs Steady
Oil prices remained high a day after the U.S. Energy Department noted a decrease in U.S. stockpiles and on a warning from Russian oil giant Yukos that it could be bankrupt within a matter of weeks.
Crude oil continued to trade above $40 per gallon, however, after flirting with all-time highs again late last week.
The U.S. Department of Labor said new jobless claims filed last week fell 11,000 to 339,000, below most projections.
Some economists were downplaying the figure, however, noting that seasonal impacts, such as temporary closings at some automobile factories, skewed results.
Dueling Data
But the private Conference Board quickly trumped any optimism from those numbers.
The Board said its index of leading economic indicators fell .02 percent in June to 116.2, suggesting less economic momentum than existed in the spring.
The index had risen three straight months and forecasters were expecting the gauge to remain flat last month.
That report helped drive the dollar lower, as investors bet against substantially higher interest rates in the near future.