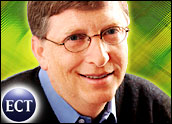 Microsoft pulled the wraps of its plans to return as much as US$75 billion worth of cash reserves it has amassed to shareholders, possibly signaling the software giant won't pursue any major acquisitions in the near future.
Microsoft said its board of directors has approved a plan to provide a one-time $3 per share dividend payout, as well as a regular quarterly dividend of 8 cents. It also will embark on a long-range plan to buy back as much as $30 billion worth of Microsoft stock before 2008.
The software giant said it felt comfortable making the moves now because it has settled or resolved many of the legal challenges it has faced, such the U.S. antitrust case and private suits with a host of companies, from AOL to Sun Microsystems and, just this week, a $20 million settlement with Lindows.
"We think that we've put many of our legal issues in the rear-view mirror, so to speak, which affords us this opportunity to move forward with the cash management plan," CEO Steve Ballmer said in a conference call.
Ballmer noted that Microsoft currently generates close to $1 billion per month in cash from ongoing operations and investments, meaning it will still have discretionary cash to spend if it wants to.
Investors cheered the news, sending Microsoft shares up nearly 3.5 percent in morning trading Wednesday, to within a few cents of their 52-week high of $30. By midday, the shares were trading at $29.30. Microsoft reports earnings for the second quarter on Thursday.
Thank the Feds
Microsoft has been amassing the cash stockpile for several years. Enderle Group analyst Rob Enderle said the software company wanted to be able to respond to any large judgments stemming from the Department of Justice (DoJ) antitrust action, in which the government sought to break up Microsoft into more than one company.
"Part of the reason for the reserve was as a hedge against judgments and settlements coming out of that case," Enderle told the E-Commerce Times. "Those actions have generally been settled so that need as well has been almost completely removed."
Acquisition Shy?
The huge cash stockpile often led to speculation that Microsoft would move to make a high-profile acquisition. The company has been linked to potential buyout targets ranging from Google and BEA Systems to SAP.
But Enderle said Microsoft is likely to steer clear of any major acquisitions anyway for two reasons.
Past "acquisitions haven't been as successful as they would have liked and with the Department of Justice oversight the really interesting ones are probably out of their range now," Enderle said.
"They could still, and will still, buy intellectual property," Enderle added. "We are entering a time when the ownership of IP will be incredibly important to the future of any high-tech company, so they will retain a reserve to do this, but much of the rest of the opportunity to buy companies has probably gone away."
Change of Pace
Analysts were split over whether the decision to boost its dividend and buy back stock marked Microsoft's transformation from a growth company to a more mature company that was focused more on improving profitability over time.
"Investors look for dividends when the company's share value isn't going up as rapidly as it once did," University of Louisville professor of finance Russ Ray told the E-Commerce Times.
Especially in the wake of the Bush tax cut that eliminated taxes on dividends, more investors are interested in stocks that make long-term payouts. "It's an option for buying stocks that doesn't rely on rapid growth to make the investment pay off."
Big Pay Days
The dividend payout will mean a large windfall for some institutional owners of Microsoft stock and some of its executives.
Founder and Chairman Bill Gates has already announced he would donate the $3 billion he will receive to his charitable foundation. Gates, who owns approximately 10 percent of Microsoft's outstanding shares, will also get about $384 million annually in dividends.
Ballmer, meanwhile, will receive a $1.2 billion one-time payout and around $131 million per year due to the higher quarterly dividend.