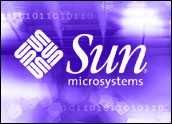 Sun Microsystems reported results today for its fiscal fourth quarter and full fiscal year, which ended June 30, 2004.
Revenues for the fourth quarter grew to US$3.110 billion, an increase of 4.3 percent as compared with $2.982 billion for the fourth quarter of fiscal 2003.
"Delivering growth and preliminary profits in Q4 is a great way to end the year, with 46 percent server unit volume growth year-over-year and a sequential increase of 18 percent," said Scott McNealy, chairman and chief executive officer of Sun Microsystems.
"We enter the new fiscal year with a strong balance sheet, the strongest product and services portfolio in our history, and the largest developer and partner communities we've ever had."
Revenue Details
Net income for the fourth quarter of fiscal 2004 was $795 million or $0.24 per share as compared with a net loss of $1.039 billion or a net loss of $0.32 per share for the fourth quarter of fiscal 2003.
Cash generated from operating activities was $2.172 billion for the quarter, and the balance of cash and marketable securities was $7.608 billion.
For the full 2004 fiscal year, Sun reported revenues of $11.185 billion, a decline of 2.2 percent as compared with $11.434 billion for the full 2003 fiscal year.
Total gross margin as a percent of revenues was 40.4 percent, a decline of 2.8 percentage points as compared with the 2003 fiscal year.
'Consistent Demand Throughout the Quarter'
Results reported today include $1.6 billion of other income, and $350 million in deferred other income related to the Microsoft settlement.
Sun has sought confirmation of certain aspects of its accounting relating to this settlement from the Securities and Exchange Commission. Financial results are pending final resolution of these matters.
"We're pleased we grew revenue in fiscal Q4 based on consistent demand throughout the quarter across geographies and products," said Steve McGowan, Sun's chief financial officer and executive vice president of corporate resources.
"We're also pleased that we generated $2.2 billion in cash from operations in fiscal 2004 and ended the year with a cash and marketable securities balance in excess of $7.6 billion. This marks the 15th consecutive fiscal year that Sun has generated positive cash flow from operations."