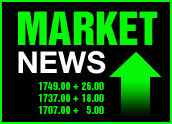 Investors waited until late in the day and then moved into buying mode today, with stocks moving higher across the board despite another record-high price for oil.
After trading near-flat most of the session, stocks rose in the final hour of trading, with the Dow gaining 62.24 points to close at 10,239.92. The Nasdaq rose 15.53 to finish at 1,971.03, marking the seventh straight trading day when the tech-heavy index posted gains. The S&P 500 was also higher, rising 7.57 points to 1,142.05.
Blue chips were helped by two favorable regulatory actions that aided member companies. Materials giant Alcoa rose nearly 2 percent after the Commerce Department ruled that a South African competitor was guilty of "dumping" aluminum on the U.S. market at below fair market prices.
Computer Associates-Netegrity
And aircraft maker Boeing was also higher after the U.S. asked the World Trade Organization to investigate whether European Union subsidies to competitor Airbus were unfair.
On the Nasdaq, Netegrity shares helped lift the index after the company agreed to be acquired by Computer Associates in a US$430 million deal. Netegrity shares were up 36 percent on the day.
Wall Street's gains came despite another barrier-breaking day for oil futures, which gained nearly a full dollar and closed above $52 for the first time ever, finishing the trading session on the New York Mercantile Exchange at $52.02 a barrel.
Oil Stockpiles
The latest surge came despite an Energy Department report showing that U.S. stockpiles of oil continued to expand last week for the second week in a row. That growth is coming despite weakened oil production from the Gulf of Mexico.
The department also warned consumers to be ready to dig deep to heat their homes during the winter season, however, with double-digit price hikes likely for both home heating oil and natural gas.