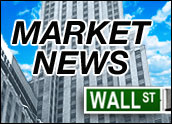 A spike in initial jobless claims and downbeat earnings news from some companies were enough to keep investors on the sidelines Thursday as Wall Street seemed content to stand pat.
Stocks traded in a narrow range amid low volume and largely maintained the status quo as oil prices continued their recent retreat.
According to the U.S. Labor Department, initial jobless claims spiked last week by 10,000 to 343,000, more than economists had predicted.
But at least half of the claims were believed to be connected to businesses forced to shut down due to the devastation of Hurricane Charley.
Market News
The Dow dipped by just over 8 points to 10,173.41, while the Nasdaq gave up 7.80 points to end the session at 1,852.92. The S&P 500 was the lone average in the green on the day, moving up .13 points to 1,105.09.
Many traders are predicting low volume on Wall Street for the next week or more as New York prepares to welcome the Republican National Convention during what is traditionally one of the slowest times of year anyway for the markets.
Still, those investors still paying attention had plenty to focus on, from the jobless claims to oil prices, which fell Thursday for a fifth straight day and have dropped 11 percent in the past week.
Oil closed just above $43 in New York trading, despite a drop in Iraqi oil production after another incident of sabotage.
Earnings News
Earnings news and updates certainly didn't provide much reason for the market to move higher, with some high-profile companies issuing disappointing reports.
Shares of Krispy Kreme Doughnuts tumbled 11 percent and hit a 52-week low after a lowered outlook for the rest of the year.
And Starbucks was down as much as 9 percent during the session after it missed analyst targets for growth in same-store sales in August.