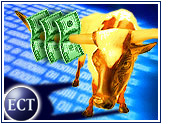 According to a new report by J.D. Power andAssociates, most online investors are satisfiedwith their experience and are still optimistic, even in theface of a struggling economy.
A whopping 90 percent of the 10,344 online investorssurveyed by J.D. Power said they plan to continuetrading online. One-third of respondents are evenplanning to increase their trading volume, the reportsaid.
According to Ellen Guion, senior research manager ofinvestment services at J.D. Power and Associates,investors with smaller portfolios have been droppingout of the game, but those with larger tradingaccounts are in for the long haul.
Big Players
"The high-end people are really driving onlineinvesting right now," Guion told the E-Commerce Times,adding that the average online portfolio size hasrisen to about US$200,000.
Among high-end traders, 80 percent said they expect 2002 willbe at worst an average year and at best a good one. Asa result of general improvement in the economy andcorporate earnings, as well as the widely held opinionamong online investors that the tech slump is over,Web traders "do have a very optimistic outlook," Guion said.
Slow Growth
J.D. Power saw a mere 2 percent increase in newinvestors over the past six months, but that is animprovement over the September survey, when onlinetrading was down 8 percent.
"We're seeing people trickling back in. It's showingthe right direction, it's just not going in leaps andbounds," Guion said.
Online trading has declined among consumers 25 to 34 years of age but has risen for those over 55. The senior onlineinvestment population has doubled over the past yearand now represents 25 percent of the overall onlinetrading community.
More Cautious
Most online investors — 70 percent — have changed theway they invest online since September 11th, taking amore conservative approach and concentrating ondiversifying their portfolios.
As a result, many investors have moved from using asingle investing service to trading with multiplebrokerage companies. In addition, online investors aremore likely to place a portfolio with a secondaryinvestment company than they were a year ago. Thepercentage of portfolios placed with such firms hastripled over last year's levels.
The survey also found that online investors are nolonger as likely to consolidate all their investment account information on a single site.
Keys to Success
Most online investors cited information as the mostimportant thing for a Web broker to provide, but otherkey factors included customer service, trade execution,Web site capability, core values and cost.
"Firms that have focused on information resources andcustomer service will continue to be on the rightpath, as these factors are still the key components ofinvestor retention," Guion said.
In the survey, Scottrade ranked highest in overallcustomer satisfaction, followed by Merrill Lynch,Fidelity and Schwab.