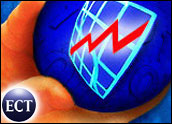 It has been a tough year for the technologysector, but Forrester sees a light at the end of the tunnel.
The research firm said it expects that the tech sector, propelled by arobust U.S. economic recovery, will turn around fasterthan previous projections indicated. In addition, e-commerce is expected to remain strong.
"E-commerce growth will continue to expand independentof the tech recovery, but the tech recovery will helpto propel even more e-commerce," Forrester analystBruce Temkin told the E-Commerce Times.
Underfunding Tech
"Companies are at this point underfunding somevaluable tech investments that would help theire-commerce efforts. But even without a lot of the techinvestments that I still think need to be made, bothconsumers and businesses are continuing to increasetheir purchases online," Temkin said.
According to the report, consumers boosted theironline purchases by 12 percent in 2001, and theaverage corporation bought 9.5 percent of materials onthe Web in the fourth quarter of 2001, up from 7.1percent in the third quarter.
Cautious Growth
In October 2001, Forrester predicted the technologysector would see 2.2 percent growth in the second halfof 2002. In its latest report, Forrester increasedthat projection to 3.9 percent. The increase is stillmodest, however, and reflects continued caution amongtechnology executives.
Forrester said it expects double-digit growth to resume in2003, with 10.4 percent growth in the tech sector.
The anticipated increase will be driven by several factors,including a boost in corporate IT spending and newtechnologies like Web services — which will redefineintegration — and wireless capabilities for consumers, which will extend to everyday devices by 2005.
More Broadband
Those innovations will "reinvigorate the entire techsector," the report said, and growth willcontinue into 2004. Forrester said it sees the tech sectorgrowth rate reaching 12.5 percent by 2004, up from aprevious estimate of 11.8 percent.
An increase in broadband adoption also will drive faster growth. About 17 percent of Web users nowhave broadband access, according to the report, and anadditional 16 percent are planning to get high-speedaccess in 2002.
"With the economy in full swing, the tech sector willget back to its long-term growth trend," Temkin said."Technology's best days are still ahead."