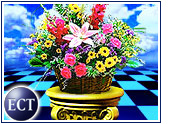 Adding fuel to the argument that an e-commerce resurgence is at hand, 1-800-Flowers.com (Nasdaq: FLWS) has announced a second-quarter net profit of US$1.8 million, along with a sharp increase in revenue.
"Despite what continues to be a very challenging retail environment, we were able to achieve solid revenue growth of approximately 21 percent," company chairman and CEO Jim McCann said. "Importantly, as evidenced by our improved margins, this was done without resorting to the aggressive promotional pricing that characterized much of the retail sector this past holiday quarter."
1-800-Flowers spokesman Ken Young told the E-Commerce Times that while the second quarter has always been a good one for the company, "it's only been in the last few years, with our emphasis on non-floral gifts, that it's become a really strong quarter for us."
In the Black
The company booked revenue of $162.3 million for the second quarter, an increase of 20.9 percent from the $134.2 million it reported in the year-ago period. As a result of this revenue jump, both EBITDA (earnings before interest, taxes, depreciation and amortization) and net income were in the black.
1-800-Flowers said its second-quarter EBITDA was $5.2 million, compared with an operating loss of $6.8 million in last year's second quarter. In addition, the company's net income of $1.8 million — 3 cents per share — eclipsed last year's second-quarter net loss of $10.5 million, or 16 cents per share.
Beyond Its Roots
In addition to its solid financial performance, 1-800-Flowers continued to expand beyond its core product in the second quarter, with non-floral gifts contributing 62.1 percent of total revenue, compared with 55.7 percent in the year-ago period. The company said this increase helped it increase its gross profit margins, propelling it toward net profitability.
According to 1-800-Flowers, approximately 1.1 million new customers placed orders with the company during the second quarter, and approximately 420,000 of those new customers were online shoppers. The company said 46.4 percent of all orders were placed by repeat customers, up from 40.1 percent a year ago.
Hurdles Ahead
The e-tailer said it expects to record a net loss of 2 to 3 cents per share in its third fiscal quarter ending March 31st, although it forecast Q3 EBITDA (earnings before interest, taxes, depreciation and amortization) of $1.5 million to $2 million. The company also projected revenue growth of 11 to 13 percent from the year-ago third quarter, for an expected total of $114 million to $116 million.
For the full fiscal year ending June 30th, 1-800-Flowers predicted revenue growth of 13 to 14 percent over year 2000 levels, to approximately $500 million to $505 million, and an operating profit of $9 million to $10 million.
"The strength that we have is that a lot of retailers gear up for the December holidays and then they're pretty much done for the rest of the year," Young said. "We're fortunate in that we have three strong quarters."
Young noted that the company benefits from the second quarter, which includes the December holidays; the third quarter, which includes Valentine's Day; and the fourth quarter, which includes Mother's Day.
"We continue to see a challenging retail economy with somewhat slower customer demand than we had anticipated," McCann said. "However, we are excited about the upcoming Valentine's Day holiday, traditionally a very busy time of the year for our company."