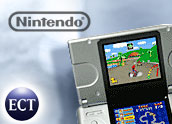 Nintendo and Sony took the stage with competing announcements at this year's Electronic Entertainment Expo (E3) in Los Angeles. Each game console maker detailed specs of a new portable gaming device, but the proposed gadgets differ in important ways.
Nintendo said its entrant in this market will debut this year in Japan and North America, and in Europe in early 2005. Rather than replacing the company's highly successful Game Boy platform, which has dominated the portable gaming space for approximately 15 years, the Nintendo DS — an unofficial name that stands for "Developers' System," according to a company press release — is designed to be compatible with Game Boy and to be sold alongside it in stores.
Watch This – And That
The DS is most notable for its dual screens, which allow players to view gaming action from two perspectives at once. It also sports several other features, including touch-screen input, voice recognition, chat software and wireless networking capabilities, with support for both IEEE 802.11 (WiFi) and Nintendo's proprietary mobile communication protocol, which provides the benefit of low battery consumption.
"While others plan to let you go a little faster down the same roads you have always traveled, Nintendo plans to take you down incredible avenues you've never seen before," said Reggie Fils-Aime, Nintendo of America executive vice president. "We understand the hand-held market better than anyone else."
According to Nintendo, more than 100 companies have received software development kits for the DS device so far. Among others, a new Super Mario game is already in the works, as are a Spider-Man 2 game from Activision, a SpongeBob SquarePants game from THQ, a Yu-Gi-Oh! game from Konami and — in a blast from the past — a Pac-Man game from Namco.
DS pricing information was not disclosed at the E3 event.
High Hopes
For the most part, developers seem excited about the potential of the Nintendo DS. "[It] is going to push the hand-held technology to really uncharted territories," said Yves Blehaut, senior vice president at Atari, in a statement on the Nintendo Web site. "By that I mean that it's going to bring amazing new game mechanics, new game design."
Likewise, said Michael Pole, executive vice president for worldwide studios at Vivendi Universal Games: "Nintendo has a reputation for doing extraordinary things in the hand-held space. The DS is an extraordinary device, and we are going to do everything in our power to support it."
Old War, New Battlefield
However, Nintendo is not the only console maker with big plans in the portable space.
Sony, which on Tuesday cut the price of its flagship PlayStation2 console from US$179 to $149, also introduced a new device called PlayStation Portable, or PSP for short. The PSP machine builds on the PlayStation and PlayStation2 legacies of wide-ranging functionality, with a wide-screen TFT LCD that is capable of playing high-quality, full-motion video in millions of colors.
Like the Nintendo DS, the PSP will be WiFi-capable, but it also will include USB 2.0 functionality.
The device is slated to launch in Japan by the end of 2004, with debuts in North America and Europe scheduled for Spring 2005.