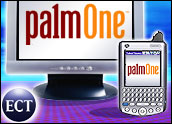 In a bid to boost sagging demand for its devices, palmOne has launched two new products in its popular Zire line of handheld computers: a lower-end model designed to appeal to price-conscious consumers and a higher-end model with multimedia and Bluetooth wireless functions.
The Palm Zire 31 is designed to be a step up from the Zire 21, which Palm launched in 2002 to lure reluctant handheld users. Meanwhile, the Zire 72 is meant to be a more powerful, midrange device with more bells and whistles and business as well as entertainment functions.
The Zire 31, which adds a color screen and also features an expansion slot that gives the device MP3 capabilities, is meant to appeal to "value-conscious students, superparents and seniors," according to palmOne. It is expected to sell for about US$149 in the United States.
PalmOne vice president Ken Wirt said the Zire 31 is the first color "full-featured handheld launched" with a price tag of less than $150. The original Zire retailed for $99 when it launched and was a market success for palmOne. Last week, the company announced it had sold 3 million Zires in the 18 months since the product line debuted.
More Power
The Zire 72 handheld features a built-in 1.2-megapixel digital camera and MP3 player, audio-video capture and playback ability, and wireless networking technology from Bluetooth. It also includes 32 MB of memory, a high-resolution 320 x 320 color screen and an Intel ARM processor.
The device will retail for about $299, placing it in the midrange among Palm's devices, below the top-tier Tungsten line.
Wirt said the Zire 72 is meant to appeal to users who switch back and forth from business to personal use, with video playback functions and the ability to create and edit Word- and Excel-compatible files through the included Documents to Go application.
Both devices operate on Palm OS 5.2.
Building on Success
Page Murray, vice president of marketing at palmOne, said the goal of the new products is to build on Zire's success over the past 18 months.
"Zire is an innovation not so much in technology but a business challenge to go out and reach new customers, and we've done that," he said in an interview with the E-Commerce Times, noting that palmOne data shows 70 percent of Zire buyers are first-time handheld users and 50 percent are women.
The latest upgrades stem largely from customer feedback, according to Murray. For instance, the Z31 has four times as much memory as the original entry-level model. "It's going to reach out to a demographic that's interested but maybe hasn't taken the plunge yet," he said, calling the built-in MP3 player the feature that helped convince many consumers to buy Zires.
Changes to the Z72 line also stem from user feedback and reflect users' desire to be able to seamlessly switch from personal to business use.
"They may buy the device as a consumer, but we all have business lives as well," Murray said, noting that user requests included a better-quality camera. "Handhelds are much more than organizers now."
Needing a Boost
The rollouts come as worldwide demand for handhelds is showing signs of cooling off dramatically.
IDC analyst David Linsalata said users do not appear eager to leap to higher-end devices. While Palm and others have responded with devices in the lower and middle price ranges, handheld makers need to continue to expand device capabilities to retain their competitive edge, he told the E-Commerce Times.
While palmOne maintained its worldwide dominance in the first quarter, it lost some market share to competitors, according to IDC data, with number two vendor Hewlett-Packard and number four handheld maker Dell both showing strong gains. Overall, sales of handheld devices slumped nearly 12 percent in the first quarter compared with the same period last year and were down 33 percent from the fourth quarter of 2003.
"The risk for palmOne is that consumers and enterprises could start to view handhelds as all being the same," Linsalata added. "They need to continually add features to show they're still the one to turn to for handhelds."