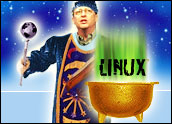 In an effort to warp the space-time fabric, Microsoft chairman Bill Gates will go back in time to sabotage the Linux operating system, according to an internal memo leaked to the Internet by an unknown Microsoft insider.
"This is clearly a smoking gun," open-source programmer Tux Rodriguez wrote in his weblog, where he also posted the leaked memo.
The e-mail memo, sent by Microsoft CEO Steve Ballmer to Gates with a subject line of "All systems go!!!!!!!" reads:
Our crack developers have constructed the time-travel device and completed testing last week. Although human beta testing initially revealed some flaws, most of the bugs have been worked out, and we are happy to report the system is ready to transport you to December 1990.
I know we have gone over this before, but just to recap: You should arrive at the transportation room Friday wearing simple clothes with no metallic accessories. Upon your arrival in 1990, the retrieval team will be waiting for you, as one of our beta testers remained behind to prepare them. You will be given money, food, a winter coat, and an airline ticket to Helsinki, Finland. Your mission: Travel to the University of Helsinki, seek out undergraduate student Linus Torvalds, and offer him a job at an annual salary of US$500,000. If he resists, up the offer. Remember: There is no spoon … er, ceiling."
Also, we should authorize a lucite plaque for the development team. This is our first on-time product in ages! Developers! Developers! Developers! Developers! YEEEEEEEEEEEEEEEEEEAAAAAAAAAAAAAAHHHHHHHHHHHHHHH!
Machine of Doom?
As of Thursday morning, there were 22,546 comments posted on Rodriguez' weblog in response to the memo.
"We must stop this feind!" wrote LinXUsr19. "Before it is too late and we are all writing buggy Visual Basic programs for Access databases!!!"
"The power of Linux cannot be undone," another open-source stalwart, Rings'R'us, assured his companions. "We must send an emissary to infiltrate Microsoft's campus and destroy the time-travel machine at the heart of Redmond's evil. The hour is late, but we still have hope. There is always hope."
Ludicrous Speed – Go!
Ballmer has released a statement refuting the memo and dismissing the idea of a time-travel machine as "ludicrous."
"I know some people are suspicious of Microsoft, but come on," he joked in the statement. "A time-travel device? Next thing you'll be telling me there are bugs in Microsoft Word!"
However, no one has seen Ballmer since last week, and there is speculation that he may be experiencing some unpleasant side effects as a result of testing the time-travel machine.
"I could be fired for saying this," a Microsoft programmer, who requested anonymity, said. "But I saw a guy at the end of the hall last week who looked like Ballmer, and… his head was on backward. It was horrible. Of course, it could have been a trick of the light."
Linus Torvalds was unavailable for comment at press time, but he is rumored to be at an undisclosed location, weeping on FSF founder Richard Stallman's shoulder.
---
Editor's Note: This piece is intended as satire and appears as part of our April Fool's edition.
---