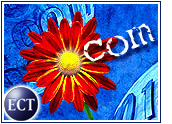 Flower seller 1-800-Flowers.com (Nasdaq: FLWS) achieved a profit in its fiscal fourth quarter, as strong Mother's Day sales fueled a 33 percent rise in online revenue, the company said Thursday.
"Despite what continues to be a very challenging economy for retail companies, during our fourth quarter we were able to achieve a solid rate of revenue growth," said chairman and chief executive officer Jim McCann. "During the period, we reduced all of our operating expenses not only as a percentage of sales, but also in absolute dollars."
Before writing down an investment made in fiscal 2000, the company earned US$1.2 million, or 2 cents per share, for the quarter ended July 1st. Earnings before interest, taxes, depreciation and amortization (EBITDA) totaled $6.4 million, or 10 cents per share.
Net income totaled $226,000, or breakeven per share, for the quarter, compared with a loss of $12.9 million, or 20 cents, in the year-earlier quarter.
Web Migration
Strong sales of higher-margin gift products and reduced operating costs also contributed to the improvement, the Westbury, New York-based e-tailer said. Revenue for the quarter rose 9.1 percent from a year earlier, to $124.3 million.
Online sales accounted for 47.4 percent of total revenue. Telephone orders slipped from a year earlier as "customers continued to migrate to the Web," 1-800-Flowers said.
Traffic to the 1-800-Flowers Web site rose more than 30 percent from a year earlier, with 460,000 new online customers purchasing flowers and gifts, the company said.
Bouquet of Customers
At the same time, "highly effective and cost-efficient marketing efforts" resulted in declining customer acquisition costs, 1-800-Flowers said. During fiscal 2001, it cost $16.88 to get a new customer, down from $23.34 in the prior year.
Repeat customers accounted for 46.7 percent of total orders during the fourth quarter, with many placing more than one order.
Company executives said they were encouraged by the fact that 36 percent of sales were for "non-floral" products, which typically carry higher gross margins. The shift came "despite the traditionally highly floral nature of the spring holiday season," the company said.
Predicting a Loss
The first quarter, a traditionally slow period because of a lack of gift-giving holidays, is likely to result in an EBITDA loss of $6 million to $7 million, McCann said.
"Because it's a slower period for us, it is the quarter in which we traditionally implement technology upgrades and begin ramping up our marketing efforts for the calendar fourth quarter holiday shopping period," he said.
Revenue is likely to grow at a 16 to 20 percent rate in fiscal 2002, divided evenly between online and telephone sales, 1-800-Flowers said. EBITDA should total $8 million to $10 million, or 12 to 16 cents per share, it said.