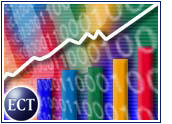 Wall Street investors bumped 1-800-Flowers.com (Nasdaq: FLWS) up 19 cents to $5.88 in early trading Wednesday, after the company said strongholiday sales led to a solid second quarter, ended December 31st, of fiscal 2001.
The e-tailer repeated its goal of achieving 18 to 20 percent revenue growth in the second half of the fiscal year, with aprofit before extraordinary items in the final quarter.
The company, unlike e-tailers in otherindustries, has several strong holiday shopping periods, such as Valentine'sDay, Mother's Day and graduation time.
A combination of higher gross profit margin and reduced operating expensesled to a 40 percent narrowing in the company's net loss in the secondquarter — to $10.5 million, or 16 cents per share, from$17.5 million, or 28 cents, in the same period a year earlier.
Revenue for the quarter rose 19 percent from a year earlier to $134.2 million,led by a 68.8 percent jump in online sales. Gross margin increased to 41 percent from 39 percent.
The company attributed the improvement to strong demand for higher-margin, non-flower products, and to the absence of last year's "aggressive promotional discounting."
Online traffic rose 75 percent from a year earlier, helping attract 964,000new customers for a total of more than 10 million.
About 1.6 millioncustomers placed orders during the quarter, 40 percent of them repeatcustomers, 1-800-Flowers.com said. The company sells flowers overthe Internet, as well as by telephone order.