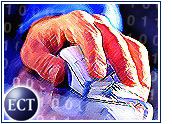 It was a disappointing Mother's Day for those who went online to send flowers, according to data released Tuesday by Nielsen//NetRatings and Keynote Systems.
The Internet performance firms reported that 25 percent of Mother's Day orders placed at three popular flower sites — 1-800Flowers.com, Flowersdirect.com and Proflowers.com — were not delivered on time.
In contrast, all four candy sites evaluated — Chocoholic.com, Ethel M., Godiva, and See's Candies — delivered 100 percent of Mother's Day orders on time, the firms said.
"Online users only care that they can get to the site, get there quickly and be confident that their orders will arrive on time," said Daniel Todd, chief technologist of public services at Keynote. "Therefore, sites need to be prepared."
Best Laid Plans
Although some flower buyers waited until the last minute, NetRatings said that others planned ahead.
Traffic to Proflowers.com more than doubled during the week ending May 6th, more than a week before Mother's Day (May 13th). Proflowers.com's traffic jumped from 99,000 the previous week to 219,000.
Traffic also jumped at 1-800Flowers.com, increasing from 224,000 to 445,000. FTD.com saw a surge from 79,000 to 149,000.
Heavy Load?
With an average load time of less than 3.5 seconds, most flower and gift sites held up well under the increased traffic, according to Keynote.
However, for the three-week period leading up to Mother's Day, load time for Flowersdirect.com averaged 12.38 seconds and Tiffany.com averaged 11.96 seconds.
"Traffic to flower and greetings card sites show healthy gains and are prime sites during big shopping events," NetRatings vice president of e-commerce Sean Kaldor said. "Special occasions, like Mother's Day, continue to draw visitors to e-commerce sites as it provides an easy and convenient way to purchase gifts and send well-wishes."
Last-Minute Cards
As for the Web's top greeting cards sites, Blue Mountain Arts saw almost 2 million unique visitors on Mother's Day but was able to deliver "exceptional performance," with the home page having 100 percent availability and an average load time of 1.51 seconds.
Blue Mountain card recipients were able to access their cards in 1.06 seconds with 100 percent availability, the study said.
With a little over 1 million unique visitors on Mother's Day, Americangreetings.com also performed well, with an average load time of 3.08 seconds and 99.5 percent availability for the front page, and 2.98 second load time and 99.4 percent availability for card pickups.
Keynote said that performance of greetings card sites for Mother's Day was much improved over Valentine's Day, when availability degraded under heavy demand.