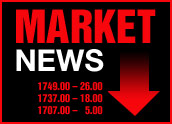 The Federal Reserve Board met most expectations today by raising a key interest rate another quarter point, a decision that seemed to push stocks slightly lower on Wall Street.
Stocks were mixed heading into the Fed's midday decision to hike the overnight rate from 1.75 to 2 percent. The move had been widely anticipated but still pressured stock prices. By the close of trading, all of the major averages were slightly lower.
The Dow lost 0.89 points, or 0.01 percent, to close at 10,385.48. The Nasdaq was the weakest performer of the day, losing 8.77 points, or 0.43 percent, to 2,034.56. The S&P 500 lost 1.17 points, or 0.10 percent, to finish at 1,162.91.
Trade Front
In the always heavily scrutinized statement announcing the rate increase, the Fed said the economy "appears to be growing at a moderate pace despite the rise in energy prices, and labor market conditions have improved." Inflation, it added, appears "well contained."
Markets were also dealing with a rebound in crude oil prices, which reversed a losing streak after the Energy Department surprised analysts by reporting a decrease in heating oil and similar fuels in U.S. stockpiles. Inventories stand 13 percent below year-ago levels, helping to spark a rally in crude futures, which rose US$1.49 in New York trading to $48.86 per barrel.
The Commerce Department, meanwhile, said the U.S. trade deficit shrank to $51.6 billion in September, down more than $2 billion from August, as exports hit their highest levels ever.
Weakness of Dollar
The U.S. exported goods and services worth a record $97.5 billion, an increase of 0.8 percent from the month before. Much of the increase was attributed to the weakness of the dollar against foreign currency, which makes American-made items cheaper for overseas buyers. Imports were also down, but still remained near record-high levels.
Separately, the Labor Department said new claims for jobless benefits ticked slightly higher last week by 2,000 to 333,000, but that the four-week moving average remained stable