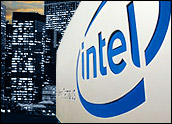 In what's being hailed as a milestone moment, Intel and Nokia announced Tuesday that they will work together on developing new mobile chipset technologies, as well as new devices to use them.
What, exactly, those devices might be or when they might find their way into consumers' hands remains unknown. Neither Intel nor Nokia executives wanted to discuss specific products in a conference call Tuesday announcing the venture.
"We'll talk about products when we are ready to talk about products, but that's not for today's discussion," Anand Chandrasekher, Intel's senior vice president and general manager of the company's ultra mobility group, told reporters and analysts.
Highlights of the Agreement
The companies were announcing a technology collaboration agreement — a deal to coordinate open source software initiatives and a deal for Intel to license Nokia's 3G HSPA modem technologies — but not products, emphasized Chandrasekher and Nokia executive vice president for devices, Kai Oistamo. Nor did the two discuss the potential scale of supply agreements that could result from the technology collaboration.
Chandrasekher called the announcement a "most significant" advancement that will lead to entirely new, as-yet-unimagined categories of mobile devices.
"Accelerating broadband access in mobile devices is key to our vision," he said.
Changing Landscape
The deal is an important one, said Flint Pulskamp, mobile and wireless semiconductor analyst for IDC.
"This is significant because it really changes the future landscape of the cellular market," he told the E-Commerce Times.
The deal provides Intel an entry point back into the cellular market, which it has unsuccessfully tried twice before to enter, Pulskamp said.
In its last attempt, Intel tried to enter the cellular market with communications and application processors. However, the effort did not pan out, and Intel sold the technology to Marvell Technology Group in 2006.
Another Try
This deal suggests that Intel may have learned from the last go-around, Pulskamp said.
Instead of trying to shoulder the entire burden of developing the hardware and firmware on its own, Intel is collaborating with a market leader in smartphone technology, Pulskamp said, making it more likely the venture can succeed.
For Nokia, the deal offers an alternative to Qualcomm, the dominant cellular chipset maker, particularly for high-end smartphones, according to Pulskamp.
It also allows Nokia access to markets beyond its core handset business — including netbooks, mobile Internet devices and new as-yet unreleased platforms, Pulskamp said.
WiMax Ramifications?
The deal could also signal Intel's intent to step back from WiMax as a 3.5 G or 4G solution, Pulskamp suggested, and instead turn more toward cellular technology in a partnership with Nokia.
However, Chandrasekher said in the conference call that the announcement had no impact on Intel's support for WiMax.
The companies did not announce terms of the licensing deal for Nokia's modem technologies, which Intel said would show up in future product offerings.
It's also unclear whether the companies will set up joint research and development offices or work from separate locations, but Chandrasekher said the multiyear collaborative effort is already under way.