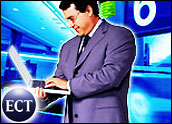 Next week, IBM will release its lightest ultraportable notebook yet, the ThinkPad X40, and the company has high hopes that it will become the notebook of choice for the corporate market.
The X40 will weigh in at a mere 2.7 pounds — 14 ounces lighter than its predecessor, the ThinkPad X31. Other features like data recovery tools, durability settings and a weather-resistant keyboard could make the X40 stand out in what has become a crowded market.
"We consider it to be a major step forward for both the ThinkPad line and notebook computing in general," Grant Shenk, worldwide ThinkPad X Series product manager in IBM's Personal Computing Division, told the E-Commerce Times. The question of whether IBM can trounce major players in the field, such as Sony, will make the notebook wars worth watching in the coming year.
Light, Tough, Long-Lived
Because it is 20 percent smaller and 25 percent lighter than its predecessor, the X40 will be marketed widely, but it appears that its real target is corporate customers who are forever trying to combine computing with ever-shrinking airline trays.
"It has the smallest footprint in its class, and that's important," Shenksaid. He also emphasized longer battery life. The 2.7-pound configuration comes with a four-cell battery that lasts for 3.5 hours, but it can be changed to an eight-cell configuration that adds 5 ounces and four hours of battery power.
Because the computer is expected to be used for travel and telecommuting, IBM has included a data integrity feature to protect the hard drive. If the computer starts to fall, the drive locks its read-write heads automatically. Shenk noted that the sensitivity of this "shock-proof" feature can be adjusted by the user.
One area that has not been improved is storage capacity. The X40 will have the same choice — either a 20-GB or a 40-GB hard drive — as other machines in the X Series.
Recovery Guru
The X40 also will feature Rapid Restore, a set of tools contained in an embedded, emergency operating system.
Described by IBM as a "lifeboat solution," the tool is designed to help reduce IT support costs by enabling user self-recovery rather than forcing a user to call a help desk or bring the computer into a service center.
This recovery feature could be what sets the notebook apart from competitors. It also could spark a wave of emulation among other developers and manufacturers.
Jim Reinert, director of the data recovery group at recovery firm Kroll Ontrack, told the E-Commerce Times that use of data recovery is booming in the corporate sector. "The chances of error are increasing, so we continue to see growth year after year," he said.
He noted that making recovery more readily available, as the X40 does, is a compelling step forward. "There's been a big rise in do-it-yourself tools and inexpensive recovery options, so having that right on the machine is going to be comforting to a lot of people."
For his part, Shenk said the Rapid Restore option also will be made available to previous ThinkPad versions soon and will be distributed through IBM's site.
Notebook Race
In its Worldwide Quarterly PC Tracker, IDC has forecast record levels of PC shipments for 2003 and 2004 as corporate spending increases and prices drop.
One sector that is destined to boom is notebooks; indeed, IDC noted that there has been a dramatic shift from desktop to notebook purchases. The firm expects the trend will continue for several more years.
As the economy improves and the notebook becomes king, IBM believes the X40 will be a strong contender for mass adoption.
"The timing for this is perfect," Shenk said.