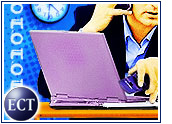 Notebook computers may not have the same cachet as a Hermes purse or a Savile Row suit, but for some executives, carrying the right laptop ranks on a level with choosing the most suitable restaurant for a power lunch or driving the best company car.
Fortunately, there are myriad notebooks from which to choose, and the trend toward diversification is likely to accelerate as sales increase. In May 2003, sales of notebook computers surpassed those of desktop PCs, according to the NPD Group, a Port Washington, New York-based market research firm. Notebooks accounted for 54 percent of market share, said Stephen Baker, director of industry analysis at NPD.
Know Your Audience
Depending on the type of business in which prospective clients are engaged, executive Stephen Almeida carries either his Dell Pentium 2.0 notebook or his Macintosh PowerBook.
"I not only make sure my shirt, tie and shoes match, but I make sure my notebook matches my client," Almeida, who is owner and chief strategist of Almeida & Associates, a Boston-area consulting and system integration firm, told the E-Commerce Times. "It's one of those scenarios where you've got to know your audience. For folks that do a lot of graphics work or multimedia work, Mac is far … superior. I look the part and bring my Mac products with me."
On the other hand, although his multimedia clients want a lot of bells and whistles, Almeida said his manufacturing customers are less interested in fancy options. "Most of my manufacturing clients or blue-collar clients don't care about the whiz-bang factor," he explained. "They just want something that gets the job done. My meat-and-potato clients don't care and are not overly impressed if you pull out a fancy PDA or notebook."
Appearance Counts
The message seems clear: Tailor your notebook to your client base or audience.
Almeida is not the only example. Although appearance initially was of relatively minor interest to freelancer Hailey Lynne McKeefry when she purchased her Sony Vaio notebook about a year ago, the computer's sleek lines do tend to convey a technology-savvy image — a vital factor for McKeefry, who specializes in writing about and for high-tech companies.
"The bulk of my clients are high-tech, so it's important to have tools that are state-of-the-art and that look state-of-the-art," McKeefry told the E-Commerce Times. "It gives me a certain edge because [prospective clients] believe I must know what I'm doing. I like how [the Vaio] looks: …very modern and very sleek."
With a price tag of about $2,600, McKeefry's system was not cheap, but shebelieves it was worth the extra money. "I found [Sony] gave me a lot of the flexibility I wanted in building my own machine," she noted. "Being a small business owner, I was willing to spend more on a piece of technology with the assumption it would be with me for two, three or four years."
What You Lookin' At?
Whether they are making whiz-bang presentations or merely collecting data, notebook users' biggest concerns at present are the model's display, keyboard and pointing device, said Tom Philbin, director of channel market research at Chicago-based DisplaySearch, in an interview with the E-Commerce Times. For this reason, he noted, some buyers are investing in 15.4-inch displays that allow them to view two documents side-by-side.
"We're seeing a trend toward high-aspect displays," he said. "This is mostly consumers; it hasn't really been embraced by corporations yet. Because they are newer screens, they are a bit more pricey today."
However, some high-visibility executives are investing in 17-inch displays for their notebooks, Philbin added. "We're starting to see more of those being adopted in corporate America for presentation applications, for salespeople."
Weighing the Options
Of course, some factors may slow adoption of 17-inch notebook screens. As Philbin said, "the user functionality of them is still a question mark" because of their weight, size and need for power.
Indeed, weight was a major criterion for McKeefry. "Normally, my desktop suits my needs, but my business shifted to a point where clients wanted to see my face," she said. "I didn't want [a notebook] to weigh more than two pounds. It's got a separate CD player, so I can take it with me when I want it and leave it home when I don't. I didn't want to give away any features, [but] I wanted truly portable, not luggable."
Salespeople and education executives also are concerned about weight and fancy extras, Almeida said. "Many of my education clients and some folk in sales positions love toys. [But], especially with sales executives, weight is a big concern. They don't want to carry around eight to 10 pounds."
Another major issue for executives across multiple industries is battery life. McKeefry made a tradeoff, moving closer to her weight limit by adding an extra battery that gives her up to 10 hours between charges. Likewise, Almeida said his firm frequently recommends a battery that has a six- to eight-hour lifespan.
Keying It In
Fortunately, style improvements do not have to mean usability suffers.
Although notebook keyboards originally were smaller than their desktop counterparts — and thus better suited for people with smaller hands — technology has improved keyboards to a point at which most men and women are able to use them with ease, according to Philbin. "They've done such a good job with keyboards that it's not an issue," he said.
Perhaps more important than a keyboard's size is its layout and fluidity. "I'm a touch typist, so I wanted the keyboard to have the same or similar action" in comparison with a full-size keyboard, McKeefry said.
Whatever their priorities, with a reported 200-plus notebook models on the market — plus the ability to personalize machines or build them to order — executives essentially can find a match for their notebook needs. The most difficult task may be determining those requirements — and then paying the extra dollars required for a custom fit.