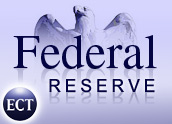 Federal Reserve Chairman Alan Greenspan gave a mostly upbeat message to Congress about the state of the U.S. economy on Wednesday, but the positive prognosis was not enough to rally stocks.
While some investors focused on the likelihood of more interest rate hikes, others might have been wondering how a rash of recent midquarter warnings fit into the picture of an improving economy.
In testimony to Congress, Greenspan said consumers who appeared to slow spending early in the summer because of sharply higher oil prices were in a position to return to form going forward and that August job growth data showed that the economy was rounding back into shape.
Greenspan did not tip his hand on interest rate hikes, but most Fed watchers have long believed a third straight quarter-point rate hike is coming at the September 21 meeting of the Fed.
The major stock markets all fell slightly on the day, with the Dow off 29.43 points to 10,313.36, the Nasdaq down 7.92 to 1,850.64 and the S&P 500 shedding 5.03 to end the session at 1,116.27.
One of the shackles that Greenspan has said has been hampering the economy — the high price of oil — continued to loosen on Wednesday.
Oil slipped another 56 cents in New York trading after early-day jitters that Hurricane Ivan was going to strike oil fields in Venezuela passed. Greenspan might also have added volatility to the oil futures when he said that increasing demand from China could put pressure on oil supplies in the future.