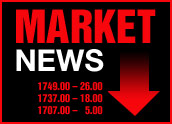 Stocks ended sharply lower today, despite continued good news on the jobs front, as geopolitical concerns prompted some investors to lock in recent gains.
The Dow shed 80.62 points, or 0.74 percent, to finish at 10,754.26. The drop came two days after the Dow hit a high for 2005 on Tuesday. On a percentage basis, the Nasdaq had an even worse session, losing 26.09 points, or 1.25 percent, to 2,061.34. The S&P 500 was also down, losing 9.59 points, or 0.79 percent, to 1,200.75.
Fewer Newly Unemployed
The drop came despite a report from the Labor Department showing that 302,000 Americans filed for unemployment benefits last week, the lowest level since October of 2000. Forecasts had been for the number to rise slightly.
Offsetting the jobs data was a weaker-than-expected report on the index of leading economic indicators. The Conference Board said its basket of forward-looking indicators fell 0.3 percent in January after climbing 0.2 percent in December.
A report on import price inflation might also have given investors reason for concern. The Labor Department said prices of imports rose 0.9 percent in January, in part due to higher oil prices. If it spreads, inflation could prompt the Federal Reserve to hike interest rates further.
Eyes on the Globe
However, investors might have been reacting to reports speculating that the Middle Eastern countries of Iran and Syria might together pose a long-term threat to stability and peace in that region and to the U.S.
That same concern did not reach the oil markets, where crude futures were lower on reports that U.S. stockpiles of crude oil grew more than expected last week. Futures settled lower by 79 cents to US$47.54 a barrel in New York trading.