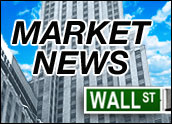 A closely watched gauge of economic growth rose in November for the first time in five months, but the news did little to excite stock investors, with the major averages finishing the session mixed.
The Index of Leading Economic Indicators rose 0.2 percent last month, the private Conference Board reported, ending a five-month skid and outpacing expectations.
Economic Predictor
The index, which takes factors such as manufacturing activity, consumer expectations and even stock prices into account and is meant to be a predictor of economic health three to six months in the future, stood at 115.2. The index peaked at 116 in May before starting to drop.
Investors weren't bowled over by the data and sent stocks to a mixed finish. The Dow gained 11.68 points, or 0.11 percent, to finish at 10,661.60. The S&P 500 was also in positive territory on the session, though ever-so-slightly, gaining 0.46 points, or 0.04 percent, to close at 1,194.66. The Nasdaq finished lower, however, losing 7.35 points, or 0.34 percent, to 2,127.85.
Where's Santa?
Some market watchers were predicting a slow week that would be capped with all major markets closed on Friday for Christmas Eve. Others were still hopeful that another surge was in the works for what is typically a strong month for stocks.
Though investor activity was light today, there was no slowdown in the recent spate of merger activity.
Today's blockbuster was in the energy services field, where Exelon agreed to acquire Public Service Enterprise Group for US$12 billion in stock. The merger would create a massive public utility with nine million customers and holdings in Illinois, New Jersey and Pennsylvania.
In other markets, the dollar lost ground again against the euro but held steady versus the yen. Oil futures, meanwhile, traded lower, losing 73 cents to $45.55 per barrel on the New York Mercantile Exchange.