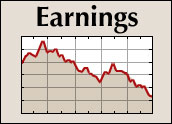 China-based software company CDC raked in the most revenue for a third quarter of its history but nevertheless suffered a net loss of more than US$7 million, a situation blamed in part on "pirate" servers allowing people to play its online game Yulgang without authorization.
The Q3 report by CDC, which provides enterprise software, mobile services and applications, online games and more, caused the company's shares to drop to a low for the year.
Due to the situation, CDC executives said the company will postpone until early next year a planned initial public offering of its software business. The company also pared its work force by about 90 people during the quarter.
Best Q3 Revenue Ever
CDC reported Q2 revenue of US$103.9 million and analysts reportedly expected the company to have revenue of $100.5 million for the subsequent quarter. Instead, CDC reported quarterly revenue of $99.6 million, a figure that — although shy of the analysts' expectations — still represented a 27 percent increase from CDC's Q3 revenue in 2006.
"Overall, I am very proud of the accomplishments of CDC Corporation this quarter and all the hard work of CDC employees," said CDC CEO Peter Yip. The quarterly revenue "represents the best third-quarter revenue performance in company history," he said. It was also the second-best quarterly revenue in company history.
For investors, however, it's often the bottom line that matters, and CDC's net loss during the quarter caused its stock prices to drop significantly.
Gaming, Mobile Services Take a Hit
Revenue from CDC's mobile services division dropped 81 percent to $1.2 million, a decline CDC blamed on "regulatory changes in the China market."
The other main factor attributing to the quarterly loss was a 23 percent year-on-year decline in revenue from games, particularly its "Yulgang" online title. CDC said this decline was due to "third parties operating pirated Yulgang servers and a dispute with MGame, the developer of Yulgang."
The CDC report is a clear illustration of how piracy and other illegal activity in China are a threat to businesses worldwide, Parks Associates analyst James Kuai said.
Wild West in the Far East
"The piracy in China is pretty rampant and nobody has found a really effective way to curb it," Kuai told the E-Commerce Times. "I'm not surprised piracy is one of the factors that contributed to their declining sales. Overall, the piracy in China is … pretty bad."
The United States has complained to the World Trade Organization (WTO) about piracy in China. The country has plenty of experts willing to make big money by stealing intellectual property, including online games, Kuai noted.
"China produces more engineers every year than the United States," said Kuai. "To pirate an online game you just need a couple of hackers who know the details and can set up their own server."
Such piracy is not only hurting companies, such as CDC. It is also thwarting creativity. "People have less incentive to invent or do innovative things," said the analyst.