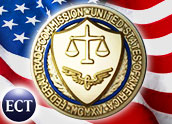 Google's proposed US$3.1 billion merger with DoubleClick encountered another stumbling block this week when two privacy groups filed a petition with the Federal Trade Commission, asking its chairwoman, Deborah Platt Majoras, to recuse herself from voting on the deal because of what they say is a conflict of interest.
There is a conflict of interest within the FTC because Majoras' husband works for the law firm Jones Day, which represents DoubleClick, according to the Electronic Privacy Information Center and the Center for Digital Democracy — both of which have lobbied against the merger.
Majoras, however, has declined to recuse herself, citing factual errors in the privacy groups' petition.
Past Connections
The proposed Google-DoubleClick deal is under investigation at both the FTC and the European Commission Directorate on Competition following vociferous opposition and outcry from Google's competitors and privacy advocates on both privacy and anticompetitive grounds.
"I had finished work on the market analysis, and now we're really near a decision on the merger," Jeffrey Chester, executive director of the Center for Digital Democracy, told the E-Commerce Times. "On Monday, I was walking my dog, and a voice came to me to look at what Majoras' husband was doing. I couldn't believe what I found."
Majoras herself is a former equity partner at Jones Day, and her husband, John M. Majoras, is currently an equity partner at the firm specializing in antitrust matters, according to the petition.
Majoras has recused herself on numerous occasions in the past because of that relationship, the privacy groups noted.
Disappearing Content
On Monday, Jones Day's Web site noted its involvement in the DoubleClick case explicitly, the petition asserted: "Jones Day is advising DoubleClick Inc., the digital marketing technology provider, on the international and U.S. antitrust and competition law aspects of its planned $3.1 billion acquisition by Google Inc. The proposed acquisition will combine DoubleClick's expertise in ad management technology with Google's Internet search and content platform. The transaction is currently under review by the U.S. Federal Trade Commission and European Commission."
Soon afterwards, however, that description was removed, leaving the privacy groups to rely on Google's own cache to retrieve it, Chester said. "Thank God for Google — ironically," he said.
EPIC and the CDD filed their petition with the FTC on Wednesday.
'Very Disturbed'
"We're very disturbed," Chester explained. "This is such an important merger for the online market, for both competitors and consumers, that for the law firm of her husband to be representing one of the parties is a real conflict of interest. What is Jones Day trying to cover up?"
What should have happened, Chester added, is that the relationships should have been explicitly acknowledged from the beginning. "The fact that we stumbled on this in secret at the last minute is clearly inappropriate."
EPIC and the CDD plan to file a Freedom of Information Act request on Friday for access to all documents related to the merger, Chester noted.
Future Impact
After Google's announcement in April that it intended to buy DoubleClick, outspoken opponents of the deal have included Microsoft, AT&T and other industry leaders; privacy groups including the U.S. Public Interest Research Group as well as EPIC and the CDD; and European consumer group BEUC.
"This is about transparency and accountability, and we need to get to bottom of it," Chester explained. "This is a very important case."
If word got to the FTC staff that the chairwoman has connections with DoubleClick, "it's likely to have an impact on how they view the proceedings," Chester added. "They're into denial, which is unfortunate for our privacy and for the future of democratic digital media."
Neither Jones Day nor Google could be reached for comment. DoubleClick, however, appeared to contradict the privacy groups' assertions, arguing that Jones Day is involved with the company only in European matters.
A Different Story
"Simpson Thacher has been DoubleClick's outside counsel since July of 2005, and was retained to represent it in all aspects of its proposed acquisition by Google, including with respect to United States antitrust matters," DoubleClick said.
"From the outset, Simpson Thacher has represented DoubleClick before the Federal Trade Commission and continues in that capacity," it added. "Jones Day has been engaged primarily with respect to European and other non-U.S. jurisdictions. Jones Day was not engaged to represent, and has not represented DoubleClick before the Federal Trade Commission or appeared before the commission on DoubleClick's behalf."
Majoras, meanwhile, also asserted in her statement that Jones Day does not represent DoubleClick before the FTC, noting too that as of Jan. 1, 2006, her husband "converted from an equity to a non-equity status." The result, she said, is that "his compensation will not be increased or affected by changes in the firm's income," and that she herself, in turn, does not have any imputed financial interest.
"My husband does not represent any party in the Google-DoubleClick matter," Majoras asserted. "He is in no way connected to the matter, nor are any of the parties to the matter otherwise currently his clients.
"Because my participation in this matter is consistent with federal ethics laws and regulations, I intend to fulfill the duties entrusted to me when I was appointed and confirmed," she concluded.
'Doesn't Look Good'
Even though everything may be entirely "on the up and up, officers of government, as well as lawyers, must strive to avoid even the appearance of impropriety," technology attorney Raymond Van Dyke told the E-Commerce Times. "The large value of the deal here, coupled with the conjugal nexus, leaves room to argue on the chairwoman's recusal."
Indeed, "this is a very valid complaint," asserted Rob Enderle, president and principal analyst with the Enderle Group.
If true, "this is a direct conflict of interest, and should have come with full disclosure — she should have recused herself from the start," Enderle told the E-Commerce Times. "It doesn't look good, and it reflects badly on the administration."