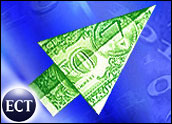 European online travel giant Ebookers (Nasdaq: EBKR) on Monday reported a 91 percent surge in gross sales for the first half of this year, and repeated its goal of reaching cash-flow profitability by the end of 2001 or the first quarter of 2002.
Ebookers said sales for the second quarter ended June 30th climbed to 48.7million pounds (US$69.3 million), as revenue rose 105 percent to 40.1million pounds ($57.1 million).
The company's loss before interest, taxes, depreciation, amortization and stock compensation narrowed to 5.68 million pounds ($8.08 million) from 5.82 million pounds in the same period a year earlier.
Strong in a Weak Quarter
"Despite the second quarter being traditionally the second weakest for travel sales in the UK, Ebookers has reported strong top-line growth while continuing to manage to control costs," said chief executive officer Dinesh Dhamija.
"This demonstrates both the strength of Ebookers' negotiated fare merchant business model, and of the European online travel market as a whole," Dhamija said.
The number of registered users rose to 1.2 million during the quarter from940,000 at the end of the first quarter, Ebookers said.
Sales Remain Up
Sales in the second half so far are "in line with management targets," Ebookers said. The company expects to narrow its loss before interest, taxes, depreciation and amortization to no more than $1.5 million per month during the second half, from about $2.7 million in the second quarter.
Ebookers said it cut operating, administrative, sales and marketing costs during the second quarter, as it reorganized internal functions and moved some operations to India to save money. The company is also offering incentives to travelers who book online in a further attempt to cut expenses.
Beyond Ticketing
Ebookers, which does most of its business selling airline tickets and otherproducts to leisure travelers, said it plans to "effectively position"itself in the markets for business travel and tour packages.
A recent agreement with package-tour operator The First Resort "provides acost-effective and profitable route for Ebookers" to get into the tourbusiness, and other agreements could follow, the company said.
Ebookers added that it "continues to investigate the possibility of increasing its market reach still further through acquisition or partnership in key markets, although thereare no announcements to be made at this stage."
Online Travel Demand
Online travel has proven to be one of the few sectors of the e-commerceeconomy to hold promise for virtual retailers. In the United States,Travelocity (Nasdaq: TVLY) and Expedia (Nasdaq: EXPE) are being watched asthey move toward profitability. Expedia is scheduled to report quarterlyresults after the close of trading Monday.
Online travel is also growing in Europe, according to a June report from Jupiter MMXI, which said siteslike Ebookers have seen a surge in visitors in recent months.
As in theUnited States, Jupiter said, travelers are checking the sites forinformation, and are increasingly looking for cheap travel products.