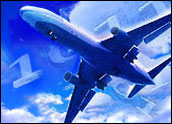 Internet travel site Orbitz took aim at one of its suppliers Tuesday, accusing Vanguard Airlines of being unresponsive and of colluding with other parties to protect the interests of Sabre (NYSE: TSG), a part-owner of Orbitz rival Travelocity.com (Nasdaq: TVLY).
Trouble began brewing earlier this month when consumers experienced problems booking flights on Vanguard through Orbitz. According to Orbitz, "some Orbitz customers have been affected by the fact that Vanguard showed available seats on flights to Orbitz and then rejected those sales after ticketing confirmation."
Vanguard said last week that it was aware of the booking problems and was "working with Orbitz to resolve these issues, but (has) not been able to resolve the problems or, in some cases, identify where the problems arise."
However, Orbitz said that despite repeated attempts to contact Vanguard executives, "Vanguard has been unresponsive and did not inform Orbitz of any ongoing issues. Any statement to the contrary is simply not correct."
End Run?
Further fanning the flames, Vanguard also suggested last week that consumers having trouble booking flights through Orbitz should book directly through the Vanguard site, or through Orbitz rivals Travelocity or Expedia (Nasdaq: EXPE), which were "not experiencing the same problems in accurately booking Vanguard flights," according to the airline.
"Vanguard is not in compliance with the Orbitz charter associate agreement, which it signed last year," Orbitz said Tuesday. "Since the airline signed a technology contract with Sabre in April 2001, Vanguard appears to have joined a confederation of parties that have aligned to protect Sabre's interests in extracting oligopoly rents from airlines in the form of excessively high booking fees."
A Vanguard representative told the E-Commerce Times on Wednesday that the company is preparing to make further comments later in the day.
Monopolizing the Market?
Orbitz, which is controlled by five airlines that account for a combined 85 percent of the U.S. airline market, is no stranger to controversy. Competitors in the lucrative online travel market have raised concerns that the site will monopolize the sector, and Orbitz had to undergo a U.S. government review that ended without action being taken by regulators.
Orbitz is also being sued by Southwest, which alleged that the site provided "false and misleading" information about Southwest's flight schedules, rates and fares, and that it is using Southwest's proprietary scheduling information without permission.
As a result of the dispute, Southwest announced earlier this month that it was pulling its pricing data from all Web sites but its own.
Strong Debut
Despite or perhaps because of the controversy surrounding its launch, Orbitz has already had a major impact on the online travel industry, besting even its own expectations for sales during its first few days of operation.
Further boosting its selling power, earlier this month Orbitz announced an alliance with Hotwire, which is also backed by a consortium of major airlines, that will provide each company's customers direct access to the other's fares and hotel rates.
The Chicago-based company's competitors, however, have mounted their own aggressive campaigns to steal some of Orbitz' thunder. Days after Orbitz went live, Travelocity announced an alliance to allow customers to make last-minute bookings, a national advertising campaign and revitalized customer service.
For their part, airlines such as Northwest and American have stepped up their use of the Internet to reach customers directly.