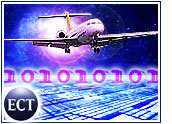 London-based online travel company Ebookers (Nasdaq: EBKR) said Monday it has moved some operations to India, and also opened a customer service call center there, as part of a plan to cut costs and break even by the first quarter of 2002.
Ebookers, which is targeting cash-flow breakeven in the fourth quarter of this year or the first quarter of next year, said the moves will help ensure that "future net profit margins provide a sound basis for price/earnings-based valuation."
Managing director Sanjiv Talwar said the company is "looking beyond" breakeven.
"We believe that one of the key benefits of the Internet, and one area where many other Internet companies have failed to perform, is the way in which technology can allow companies to bring down operating costs," Talwar said.
Ebookers said it will outsource some back-office functions to a call-center company in Bangalore. Beginning in mid-July, a dedicated center with 50 employees will handle peak-time and overnight customer calls and e-mails.
The company said the center will add to, not replace, its call-center operations in London, Dublin and Paris, which are "stretched due to growing demand."
From Delhi to Pune
Like other companies, Ebookers said it chose India because of its skilled technology workforce and "competitive cost structures."
Ebookers said it set up an office of its own in Delhi, which will manage "non-core back- and middle-office functions," including chat, e-mail, accounting and data entry.
A separate agreement with a technology company in Pune will work on software development, the company said.
Q1 Traffic Surge
On April 30th, Ebookers reported gross sales of 42.3 million pounds (approximately US$61.8 million) for the first quarter ended March 31st, up 42 percent from a year earlier and double first-quarter levels.
Excluding stock compensation and other costs, the company lost 48 cents per American depositary share in the quarter. American depositary shares for Ebookers are trading at about $4, down from a 52-week high of $13, but above their low of $2.19. The shares, like those of other e-commerce companies, took a steep plunge late last year.
However, traffic to the company's Web site rose 165 percent from the year-earlier quarter and was up 33 percent from the fourth quarter of 2000.
Growing Demand for E-Travel
A Jupiter MMXI study released last month said that European travel Web sites are seeing growing demand, with almost 4 million more consumers visiting them between November and April.
As in the United States, Jupiter said, travelers are checking the sites for information, and are increasingly looking for low-price travel products.
Ebookers, which was spun off in 1999 from London-based travel agency Flightbookers, says it offers discounted fares on 120 airlines and discounts at more than 14,000 hotels worldwide.