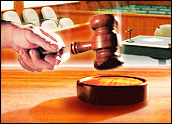 As the new year swings into high gear, e-business seems to be better positioned than it has been for years, with a rosy economic outlook ahead and a strong holiday season just past. Of course, 2004 will bring challenges too, including legal issues that will have to be addressed or at least closely watched.
Which dilemmas are most likely to determine e-business success or failure in 2004?Although it is difficult to predict with precision the issues that will plague e-businesses, some conflicts can be anticipated. Here are five legal potholes that could prove troublesome.
1. Increasing Consumer Privacy Laws
Thanks to spam, identity theft and concerns about WiFi security, in 2004 many companies will have to come into compliance with recent privacy laws. After all, late 2003 saw the passage of the Do Not Call Registry, the CAN-SPAM Act and the Fair Credit Reporting Act (FCRA). The coming year should reveal how those laws will change e-business behavior while also determining whether or not they will affect consumer privacy.
William Baker, a partner with law firm Wiley Rein & Fielding who specializes in e-commerce and privacy law, told the E-Commerce Times that as the new legislation takes effect, more attention will be paid to consumer privacy and related issues of security. Sometimes, he added, privacy and security can be at odds with each other, which might turn out to be a legal challenge for e-businesses trying to strike a balance between the two requirements.
"The security given to consumer privacy is the flip side of privacy, as consumers remain concerned about identity theft," he noted.
2. The Scope of the DMCA
In another development that could have wide-reaching repercussions in 2004, the music industry in late 2003 lost a significant procedural fight against individuals who engage in illegal file sharing. A court of appeals ruled the RIAA could not use a subpoena process under the Digital Millennium Copyright Act (DMCA) to obtain the name of a Verizon customer suspected of sharing music files.
Now, as 2004 dawns, that ruling could create a sticky dilemma because the DMCA does not affect only the RIAA.
"The DCMA is being used in a variety of contexts," Baker said, "and parties can be expected to continue to use it in efforts to protect their databases as presented on Web sites."
3. Internet Sales Taxes, Again
Internet sales tax has been a muted issue for years, but the buzz about another form of online taxation may be about to burst into shouting. On November 1, 2003, Congress let the Internet Tax Freedom Act expire — which could mean imposition of Internet access taxes after a five-year ban.
"The year should bring increased focus on remote sales and Congressional efforts to renew the moratorium on taxes on Internet access," Baker confirmed, "not to mention the EU's VAT taxes."
Adding to the tax situation, last year Congress also failed to pass legislation related to online sales tax collection. Analysts and government observers expect Congress will revisit the issue in early 2004.
4. SCO Lawsuit Expansion
One of the most significant legal conflicts of 2003 was The SCO Group's multibillion-dollar legal campaign against IBM, which broadened to includevendors and end users of Linux.
That campaign has weakened in the past few months. The courts have handed down some defeats to the company in its first stages of legal action. Also, high-profile Linux vendors HP, Novell and Red Hat have announced they will offer legal protection to all existing and future customers of their enterprise installations of the open-source operating system.
However, that does not mean the suit can be ignored in 2004, especially by e-businesses that have come to depend on Linux. As Yankee Group analyst Dana Gardner told the E-Commerce Times: "Lawsuits and software make strange bedfellows. The whole idea of defining intellectual property is difficult, and that's why it's been bandied about in the courts for so long."
This year should bring some of SCO's issues to the forefront, and it remains to be seen how much the lawsuit will affect companies. Gardner noted that this tug of war should prove interesting. "Lawsuits take quite an amount of time to go through, so this will be a drawn-out process," he said. "But I think, as with last year, you're not going to see Linux users just roll over."
5. Regulation of VoIP
Lastly, the FCC recently held a forum that addressed how Internet calling should be regulated, calling the discussion a prelude to regulation. Advocates of VoIP technology worry that the government will apply traditional phone regulations to voice technology's Internet counterpart, which could hobble it before it even takes off.
Louis Holder, executive vice president of product development at Vonage, told the E-Commerce Times that despite regulation anxiety, those in the VoIP business expect to see major interest this year.
"The market rebound means businesses will get more capital," he said. "That means they'll be replacing older equipment and wanting new features. VoIP fits perfectly into that plan."
He added that VoIP may make a splash this year because the technology has overcome significant hurdles in the past few years and is finally ready for prime-time business use.
As 2004 unfolds, more legal challenges no doubt will develop, and e-businesses will have no choice but to face them. However, with growth fueled by a better market outlook, the advent of mainstream wireless networking, ever-increasing broadband adoption and strong holiday spending, it seems many companies will have enoughammunition to face any kind of legal battle.