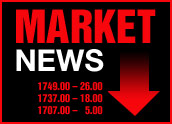 Surprisingly weak data on the sales of durable goods last month knocked the Wall Street off its short winning streak and boosted bonds as investors reconsidered the strength of the economic recovery.
The Commerce Department said May orders for durable goods — items that last more than three years — fell 1.4 percent, the second straight month of decline. Economists were expecting a 1.4 percent increase.
Meanwhile, the government said initial jobless claims were also slightly higher last week, rising 13,000 to 349,000. The four-week average also moved higher by 1,000 jobs.
Taken together, the first hard economic data evidence released in a week gave investors enough reason to halt a two-day run-up in stocks that began Tuesday.
The Dow lost 35.76 to close at 10,443.81, the Nasdaq finished down 5.41 points to 2,015.57 and the S&P slipped 3.44 to 1,140.62.
Not So Durable?
Although economists were quick to caution against using snapshot data and noted that the longer-term trends remain favorable for a continued recovery, the durable goods decline was seen as the more troubling number because it could indicate that corporations are not investing in new heavy equipment and other items in order to expand production.
One piece of data did provide an upside surprise as new home sales rose 15 percent in May, ahead of expectations.
In addition, the Commerce Department said sales of new homes in May grew by a much larger than expected 15 percent to a record seasonally adjusted rate of 1.37 million.
The economic data and overseas news, including a terrorist attack in Turkey ahead of a NATO summit there, helped drive down the dollar against most major currencies. Oil prices also rose about 1 percent on the day.