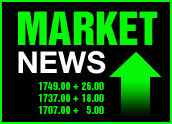 U.S. stocks staged a powerful rally today as tumbling oil prices cleared the way for a triple-digit gain in the Dow and a nearly 2 percent jump in the Nasdaq, which finished the session at its best levels in 10 months.
Stocks opened the month of the December with a surge after a November that went in the books as the strongest trading month of the year.
The Dow finished up 162.20 points, or 1.56 percent, to close at 10,590.22. The Nasdaq posted the day's biggest percentage gain, tacking on 41.42 points, or 1.98 percent, to finish the session at 2,138.23, its highest closing level since January. The S&P 500 also enjoyed a strong performance, rising 17.55 points, or 1.50 percent, to 1,191.37.
Crude Prices
The major contributing factor to the rally appeared to be falling oil prices. Crude futures tumbled 7 percent, or more than US$3 per barrel, after a report from the Energy Department showed U.S. inventories of fuel grew last week more than expected.
Crude futures trading in New York settled at $45.49 per barrel, the lowest closing price since mid-September and more than $10 per barrel below highs set in October.
Further boosting the rally were reports on consumer spending and manufacturing activity. The Commerce Department said consumer spending grew 0.7 percent in October, beating forecasts while recording the best level since July. Personal incomes also grew, up 0.6 percent, the best growth rate recorded since May.
That data might conflict with the consumer confidence numbers released yesterday, which seemed to indicate growing pessimism.
Manufacturing Activity
Separately, the Institute for Supply Management said its index of industrial activity rose to 57.8 in November, a point higher than October and ahead of estimates.
That solid data might help ensure a fifth interest rate hike when the Federal Reserve meets on December 14. However, even the prospect of higher interest rates did not do much to help the dollar against overseas currencies, as worries about the federal deficit continue to weigh on the greenback.
The dollar fell to a 12-year low against the British pound today and continued to trade near record low levels against the euro.