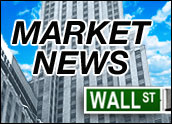 U.S. stocks ended mixed today as only the tech-heavy Nasdaq managed to make gains in the face of higher crude oil prices and a rash of broker downgrades targeting some high-profile Dow shares.
The Dow dropped 45.15 points, or 0.43 percent, to finish at 10,547.06. The Nasdaq gained 3.29 points, or 0.15 percent, to 2,151.25. The S&P 500 was also lower, losing 0.92 points, or 0.08 percent, to 1,190.25.
Oil Prices
While oil prices moved higher, they were well off their highs for the session by the closing bell. Crude futures trading in New York ended up 44 cents to US$42.98 after climbing as high as $43.60 earlier in the day. Concerns about supply from some North Sea oil rigs and rumbling that OPEC might move to stabilize prices had driven futures higher.
However, specific stock downgrades appeared to be more to blame for the weak performance of the Dow. Among the companies targeted by brokers were drug maker Pfizer, which lost 2.3 percent, aluminum giant Alcoa, which was off almost 2 percent, and Verizon Communications, which was down about a half percent.
Intel was also hit with a downgrade, but managed to buck the trend and saw its shares move higher. Intel executives will meet with financial analysts tomorrow to discuss the company's plans for 2005.
Apple Soars 5 Percent
The same wave of tech optimism pushed Hewlett-Packard shares higher by more than 2 percent on the session and helped Apple gain 5 percent. Analysts say investors are banking on tech gadgets, such as the iPod and laptop computers, being the must-have items for the holiday season.
Much of that buying, it appears, will take place online. According to online spending index compiled by Goldman Sachs, Harris Interactive and Nielsen/NetRatings, American consumers spent $8.8 billion online during November, an increase of 19 percent over last year.