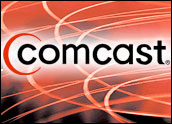 Comcast has announced that it will impose a monthly cap of 250 GB on customers' Internet usage.
The company acknowledged it has been evaluating a specific monthly data usage or bandwidth threshold for its Comcast High-Speed Internet residential customers for some time.
"Today, we're announcing that beginning on Oct.1, 2008, we will amend our Acceptable Use Policy (AUP) available at http://www.comcast.net/terms/use/ and establish a specific monthly data usage threshold of 250 GB/month per account for all residential customers," reads a notice on the company's Web site.
Marching Orders
This development comes about a week after the Federal Communications Commission detailed how Comcast would have to comply with sanctions of the company's network management policies issued earlier this month. That ruling resulted from a complaint filed by Free Press and Public Knowledge, which charged that Comcast had been interfering with customers' usage activities by interrupting peer-to-peer connections.
The service provider is to make a complete disclosure of the network management practices that prompted the original complaint, submit a plan detailing how it will comply with the FCC's immediate directives, and provide details about the system plans to deploy next year, including the thresholds that will trigger any limits on customers' access to bandwidth.
With this new change, it appears that Comcast has at least complied with this part of the FCC's mandate. For instance, Comcast notes on its Web site that median monthly data usage by residential customers is approximately 2 to 3 GB. Aiming to put the 250 GB cap into perspective, the company offered a list of activities a consumer would have to do in order to hit one's monthly limit:
Send 50 million e-mails (at 0.05 KB/e-mail);
Download 62,500 songs (at 4 MB/song);
Download 125 standard-definition movies (at 2 GB/movie); or
Upload 25,000 hi-resolution digital photos (at 10 MB/photo)
Comcast did not respond to the E-Commerce Times' request for comment in time for publication.
The FCC declined to speculate whether this new plan would satisfy its criteria. "We recognize that service providers have to manage their networks, but they must do so in way that addresses the issue that has come to their attention, and that approach must be narrowly tailored," Robert Kenny, an FCC spokesperson, told the E-Commerce Times. The FCC will address any complaints that come to its attention on an individual basis, he added.
Some Transparency
The cap is a step in the right direction in that its provides some transparency to Comcast's operations, S. Derek Turner, research director of Free Press, told the E-Commerce Times. "In the past, there was clearly a cap, but it was invisible. Users would know they had violated the cap only when they received a letter saying they were using the network excessively."
Hopefully, Comcast will increase the cap as bandwidth practices change, he added. "Basically, you could exceed the cap with watching four hours of HD (high definition)-quality television. I can easily imagine a family of heavy Internet users exceeding the cap."
However, Turner doubts that this response alone with satisfy the FCC, if that is indeed what the cable provider hopes to do. "The FCC also expects them to make a filing with a detailed plan outlining not only what they intend to do, but what their practices were when they were blocking BitTorrent," he said, referring to the company's practice of interfering with peer-to-peer sharing.
It will not be enough for the FCC, Jonathan L. Kramer, founder of Kramer Telecom Law Firm, told the E-Commerce Times. "I don't see the FCC releasing its bite on Comcast with just this plan. Comcast is still faced with opposing the FCC's order of disclosing its past practices," he said.
Furthermore, additional details are needed about its newly released plan. "It's a good start as a beginning because they are being honest. But they haven't clearly said how they will administer the cap, whether there will be exceptions or a different service level agreement for traffic above the cap."